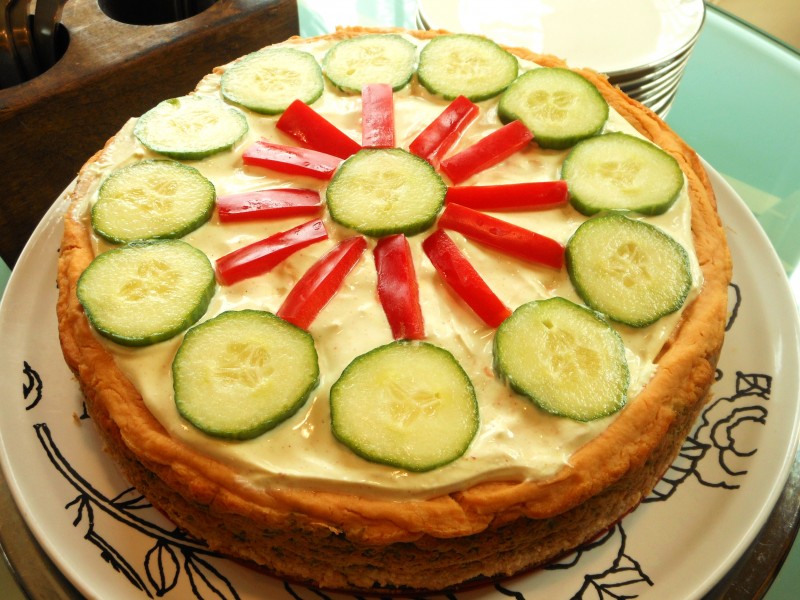 I am super-excited to share this recipe with you!  Excited because I found NOTHING like it online when I got the initial brainstorm AND excited because the good folks at Tofutti wanted to publish it.  Plus, my carnivorous husband and friends love it!
So, Savory Vegan Layered Hummus and Kale Cheesecake.  Sound weird?  It's not!  It is utterly delicious, really easy, and beautiful to boot.  It is even quite festive.
A generous gift of way too much homemade hummus to consume while it was still fresh led to a brainstorming session about how to use up a good portion of it.  A pumpkin cheesecake came to mind, as the hummus is about the same texture.   And this particular variety–garlic-red pepper–was about the same color.  "So what about a savory hummus cheesecake?" I wondered.  As I mentioned, a little online research revealed no such thing, so I set out on my own, using my go-to cheesecake recipe as a starting point.
But a whole hummus cheesecake, while scrumptious-sounding, also sounded like perhaps too much of a good thing.  So, a huge bag of chopped kale, also needing used while still fresh, inspired the idea of layers: a kale and hummus batter on the bottom with just a hummus batter on the top.
Since pita chips are so tasty with hummus, I made a pita chip crumb crust, though a bagel chip–or even cracker–crumb crust would be equally as tasty.  I simply mixed finely processed crumbs with a little melted vegan butter and pressed the mixture into an 8-inch spring form pan.  Once baked and cooled, I "frosted" the whole thing with vegan sour cream and garnished it with sliced cucumbers and red bell pepper strips to echo the green and red color scheme of the cheesecake for a lovely presentation.  However, by all means, you should feel free to let your imagination be your guide.
Note that you can use any flavor of hummus you prefer, though one with a reddish hue contrasts handsomely with the kale layer.