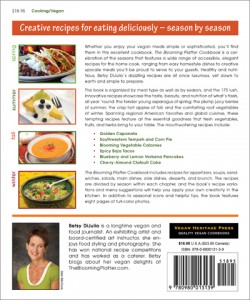 Dianne "Veggie Girl" confesses on her blog that, although she usually doesn't feature the same cookbook twice in her "Cookbook Project" series, my vegan Carrot Cake Pancakes with Cream Cheese-Orange Sauce inspired her to break with tradition and feature The Blooming Platter Cookbook for Project 19 and 20.  Thank you, Diane!
I commend her substitution of Spelt flour for the whole wheat.  I do that myself sometimes and am a fan!
This week, she chose to prepare a total of four recipes from The Blooming Platter Cookbook: A Harvest of Seasonal Vegan Recipes.  I trust it will always give me a thrill to see my recipes prepared by someone else!
In fact, I would have loved to have eaten at Dianne's house this week as this was such a busy one for me that my dinner one night was my Vegan Cheddar "Cheese" Spread on Melba toast and nothing at all last night!
This week included, in addition to a two hour appointment after work on Tuesday to have my braces removed and a beautiful closing exhibition reception for my students and their artwork at Old Dominion University's Virginia Beach Higher Ed Center on Thursday, lots of cooking for the "Incredible Edibles" cookbook launch party that is tonight (so excited!).
So while I practiced poor nutritional habits, at least at night, Veggie Girl, in addition to my carrot cake pancakes, whipped up a batch of my Zucchini-Stuffed Shells with Blooming Marinara Sauce, my Caramelized Onion and Spinach Quesadillas (with White Bean Cheese) and my "White Cheese" Pizza with Kale and Sun-Dried Tomatoes.
Her addition of a pinwheel garnish of avocado slices on the quesadilla was gorgeous (but, sadly, I'm allergic to them).  And her addition of Shitake mushrooms and red onion to the pizza  looked like the delicious confetti that I'm sure it was.
It's barely 5:25 a.m. and my mouth is watering for Italian and Southwestern food!