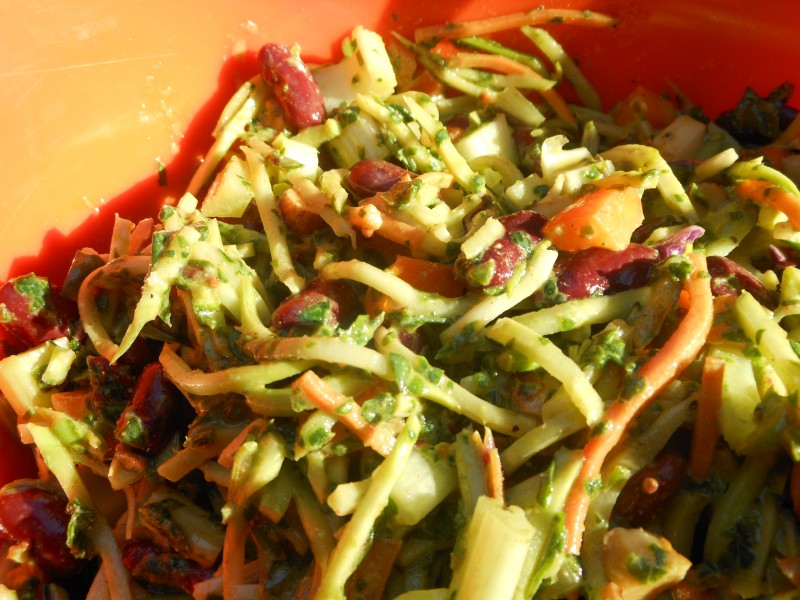 Yield: 6-8 servings (depending on other side dishes)
I took this salad to a 4th of July celebration at our good friends' Mary Beth and Ken Mays' home where it was a huge hit along with burgers (veggie and beef–I was the only vegan, though Mary Beth is a pescetarian and her cousin a vegetarian), red skinned new potato salad with artichoke hearts and both green and ripe olives in a light vinaigrette dressing, and a beautiful fruit salad for dessert.
Since we decided to go fairly traditional with our menu, I felt a slaw was in order.  But I also felt a little more protein would be nice, not to mention more color and texture contrast.  When all was said and done, this was one addicting salad!
1-12 ounce package prepared (but not dressed) broccoli slaw
5 ounces mixed or single greens like kale, Swiss chard, etc., finely chopped (I use a food processor for this task)
1 orange or red bell pepper, stemmed, seeded, and diced
1-15.5 ounce can dark red kidney beans, rinsed and well-drained
5 stalks celery hearts, diced
1/2 cup roughly chopped smoked almonds
Pinch sea salt
Pinch freshly ground black pepper
Lime Aioli Dressing (recipe follows)
In a large bowl, toss together all salad ingredients.  Drizzle dressing over the top and toss well to combine.  Check for seasoning and adjust if necessary.  Refrigerate for at least a half hour to allow flavors to marry.  Serve cold.
Lime Aoili Dressing:
Juice and zest of 1 small to medium lime
1 teaspoon stone ground mustard
1/2 cup olive oil
1 tablespoon nutritional yeast
1 tablespoon Liquid Aminos
1/2 teaspoon Sriracha (or your favorite hot sauce)
2 teaspoons ground cumin
1/2 teaspoon ground coriander
1/2 teaspoon garlic powder
1/2 teaspoon smoked paprika
1/2 teaspoon turmeric
Pinch turbinado sugar (or your favorite granualted sugar)
Pinch sea salt
Pinch freshly ground black pepper
1/4 cup vegan mayonnaise
Place lime juice and mustard in a medium bowl.  Slowly whisk in olive oil.  Add all remaining ingredients and whisk until smooth and completely combined.  Check for seasoning and adjust if necessary.