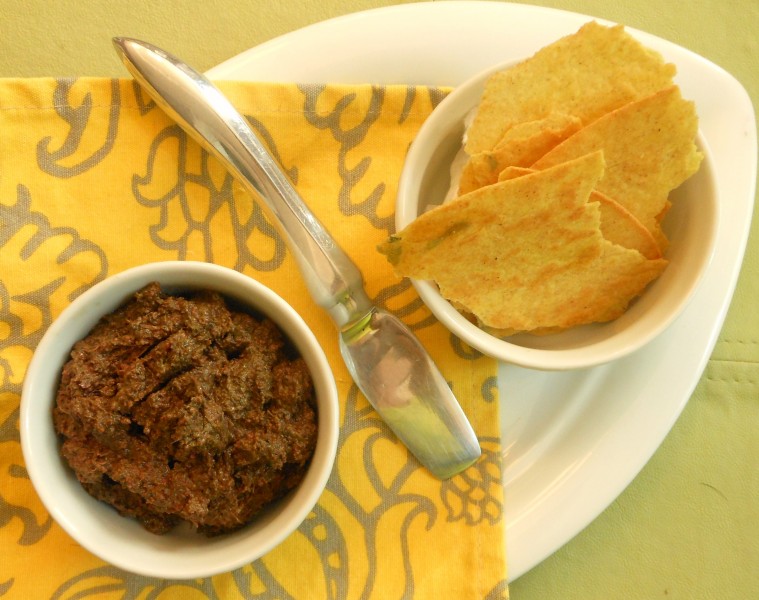 If Basil Pesto is a favorite summer standby, you will love this refreshing twist made with beet greens!
But don't let the word "greens" fool you.  The color ends up quite appealingly dark with reddish undertones very much like an olive paste.  Why?  Here's your art lesson for the day: a color (like green from the leaves) when combined with its complement  directly opposite on the color wheel (in this case, red from the stems), will produce a neutral.
You can, of course, use this zippy pesto tossed with pasta or spooned over polenta.  But it has an assertive pungent, and utterly delicious flavor that lends itself to small bites like bruschetta.  A little stirred into or spooned on top of mashed white beans or chick peas on grilled or toasted ciabatta bread would be divine.  It is also the perfect nosh spooned over hummus, prepared or homemade, and served with pita triangles or chips.
It is also a key ingredient in my Eggplant Stack with White Beans in Beet Green Pesto and Zucchini-Rosemary Salsa.
But that's just for starters.  I would love to know how YOU enjoy it!
1 bunch beet greens (greens plus about 3 inches of the stems), rinsed and patted dry (I use the greens from a bunch of  7 to 8 beets about 2 to 3 inches in diameter
2 large cloves garlic, peeled
1/2 cup roasted almonds
1/2 cup olive oil
Juice of 1/2 large lemon
1 tablespoon tamarind syrup (sold in Middle Eastern Markets, but if you can't find it, substitute pomegranate syrup or even maple syrup)
Sea salt and pepper to taste
Cut greens roughly into thirds (I use kitchen shears) and place in food processor with garlic.  Pulse until finely chopped.  Add almonds and continue pulsing until very finely chopped.  Then, with motor running, stream in olive oil, lemon juice and tamarind syrup.  Turn motor off, check for seasoning, and add salt and pepper to taste, pulsing a few more times just to combine.  Store, covered, in the refrigerator.