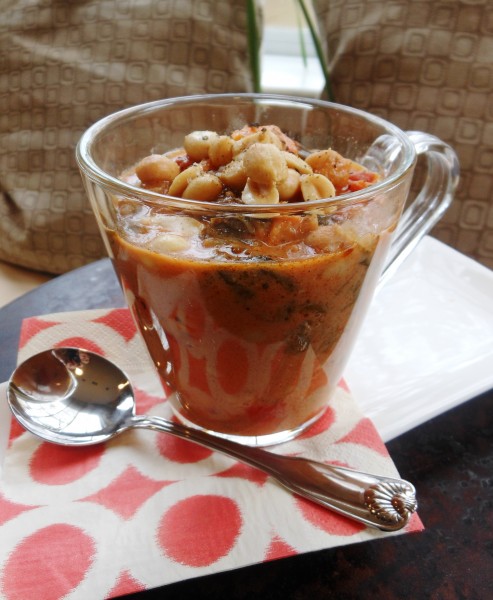 Seriously, this soup will make you 'wanna 'holla…for more!  This is, quite honestly, one of the best soups–flavor, texture, color, etc.–that I have ever eaten…of mine or anyone else's.
My recipe was inspired by a couple in recent culinary magazines.  Only, one of the recipes called for a whole cup of peanut butter.  I love peanut butter as much as the next gal but, honestly, that made me feel a little queasy just thinking about so much of such a rich ingredient.
So, I use a mere 1/4 cup.  That same recipe–or was it the other?–called for a making a sweet potato broth and using that in the stew.  If I can skip a step, I do, so I just made aromatics like onion and garlic plus the sweet potaot part of the soup.
Love!
2 tablespoons olive oil
1 small onion (half a medium onion), diced
Sea salt
1/2 large red bell pepper, seeded and diced
2 large cloves garlic, minced
1 medium sweet potato, peeled and diced
2 cups vegetable stock
1-14.5 ounce can fire-roasted diced tomoatoes with juice
1-15 ounce can chickpeas, rinsed and drained
1-15 ounce can coconut milk
1/4 cup crunchy peanut butter
1 teaspoon ground coriander
1/2 teaspoon ground cumin
1/2 teaspoon paprika
Freshly ground black pepper
2 lightly packed cups coarsely chopped mustard greens
Juice of 1/2 medium lime
Garnish: lime zest and roasted and lightly salted peanuts
In a large pot, heat olive oil over medium-high.  Add onion and a pinch of salt and saute, stirring occasionally, for about 3 minutes or until softened and translucent.  Add bell pepper and garlic and continue to saute and stir for about 3 more minutes.  Add sweet potato and stock and simmer, stirring occasionally, for about 8 minutes or until potatoes are tender.  Add all remaining ingrdients except greens and lime juice, bring to a simmer, and stir until peanut butter is melted and soup is heated through.  Stir in greens and cook just until wilted, but still bright green.  Add lime juice and serve hot garnished with lime zest and roasted and lightly salted peanuts.