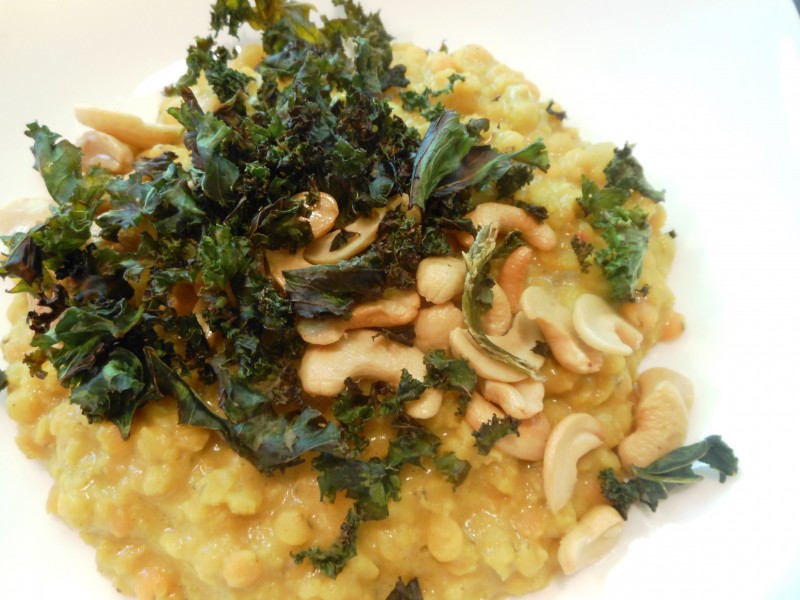 Yield: 6 servings
Last Saturday night, Joe and I were so pleased with ourselves for choosing Pompano as our dining destination in NYC.
Yes, I know that coconut dal isn't Mexcian, so keep reading…
Located at 209 East 49th Street between 2nd and 3rd Avenues, it is a beautiful restaurant with a second story that opens onto a terrace, which is where we were seated.  The weather was perfect–like early fall–the service swift, and the food outstanding, with lots of  vegan options, provided cheese or sour cream is omitted.
For my dinner, I ordered smooth-as-velvet black bean soup with a grilled plantain garnish and a black quinoa salad with corn, onions, and grilled–yes, grilled–kale.  Divine!  You can imagine that I came home commited to grilling some kale before week's end.
On the Thursday night we arrived for our weekend in the city on the occasion of  a dear friend's wedding, we dined at Amma (246 E. 51st Street between 2nd and 3rd), an intimate and warmly contemporary second story Indian restaurant.  (For meals, we tended to stick close to "home" which was POD51 at 230 E. 51st Street: hip, modern, and well-designed from quality materials with compact rooms.  Ours was a queen POD with a private bath and a very intimate one indeed: think airplane restroom–in size, not style–with a shower.)
I came home Sunday with a powerful craving for Indian food and decided to put the two together: Indian and grilled kale.  For the dal, I used a recipe from Deryn Macey at RunningOnRealFood.com with no substantive changes except more water that is ridiculously tasty, especially scooped up in lettuce leaves instead of naan which, unless veganized, contains yogurt.  To make it more "buttery" while adding a third texture contrast, I sprinkled it with roasted cashews.  And to create more of a  one-dish vitamin-packed meal, I topped it with grilled kale.
For the kale, all I had was pre-chopped, so I used it and thought it made a perfectly textured topping, though you could certainly grill whole kale leaves and use them differently.  I am an indoor griller and found my Lodge cast iron grill pan to do a beautiful job.  Grill the kale, which just takes a few minutes, in two batches while the dal cooks to creamy perfection.
Vegan Coconut Yellow Dal with Grilled Kale and Cashews
2 tablespoons coconut oil
1 medium onion, diced
3 large cloves garlic, minced
1 tablespoon fresh ginger, peeled and grated (I used 1 teaspoon ground ginger, as I had no fresh on hand)
2 teaspoons curry powder
1 teaspoon turmeric
1/2 teaspoon chili powder
1/2 teaspoon black pepper
1 teaspoon sea salt
2 cups dry yellow lentils
1-15 ounce can coconut milk
4 to 4 1/2 cups water
Grilled Kale (recipe follows)
Roasted and lightly salted cashew halves and pieces
In a large cast iron skillet, heat the coconut oil over medium-high.  Add onions and saute, stirring frequently, about 3 minutes or until softened.  Add garlic and ginger and continue to saute and stir frequently for about 2 more minutes until onions are quite soft.  Lower heat to avoid scorching garlic if necessary.  Add the spices, coconut milk, lentils and 3 cups water, whisking in one cup of water at a time.  Simmer for about 45 minutes or until soft and thick, lowering heat if necessary, adding another 1/2 cup water about every 15 minutes.  Remove from heat and serve topped with grilled kale and a sprinkling of cashews.  Note: if desired, toss kale with about 1/4 cup chopped fresh cilantro before topping dal.
Grilled Kale
4 cups coarsely chopped kale (when I purchase from the grocery store instead of farmer's market, I purchase a bag of, prewashed and coarsely chopped
Small amount of olive oil (If possible, dispense from a spray can or spritzer to avoid over-doing it)
See salt
Heat lightly oiled grill pan over medium-high.  Add half of kale in an even thin layer to pan and grill about 3 minutes to until it starts to char, flip with a spatula and grill about 3 more minutes or until desired color and texture is achieved.  Remove to a platter (avoid heaping it in a bowl or it will steam) and repeat with remaining kale.  Sprinkle with a small amount of sea salt if desired.  Prepared this way, you can use the kale myriad ways: in salads, soups, sandwiches, side dishes, and more.  Its pretty darn good "right by itself," as they say in the 'Sip (Mississippi).