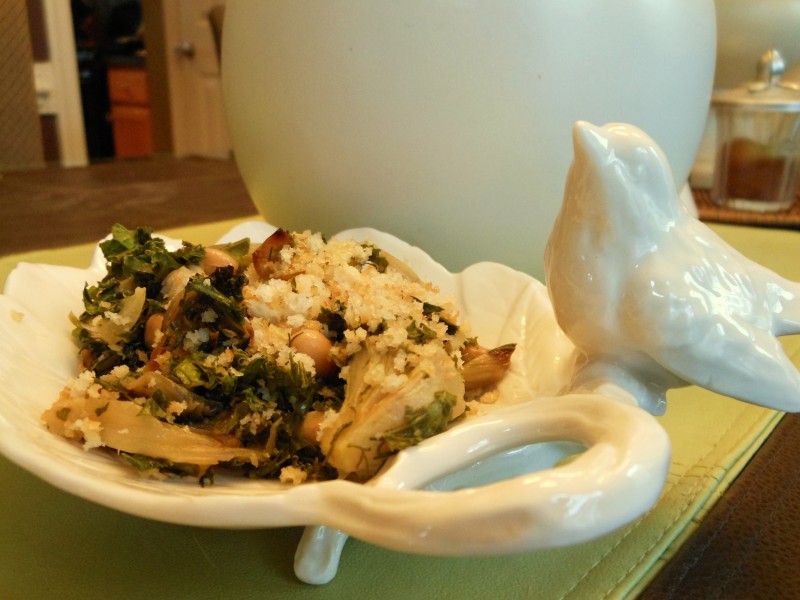 Yield: 4 main dish servings or 6-8 side dish servings.
This is rustic, yet healthy, comfort food–just the kind of food I crave in winter.
You can call this delectable melange a side dish or a  main dish but, regardless, just call me when it's ready!
2 tablespoons olive oil, divided
1 medium-large onion, halved and cut into 1/2-inch silvers
1 medium-large fennel bulb, halved, cored, and cut into 1/3-inch slivers
Sea salt to taste
1 tablespoon vegan butter (I use Earth Balance, but you could substitute olive oil)
1/2 to 3/4 cup Panko bread crumbs
1-15.5 ounce can white beans, rinsed and drained
2 cups finely chopped fresh kale (I use the food processor for this task)
1/4 cup minced fresh fennel fronds (I use the food processor for this task too)
Freshly cracked black pepper
Preheat oven to 400 degrees.  Spray an 9-inch ceramic baking dish with non-stick cooking spray; set aside. Pour one generous tablespoon of olive oil into a large roasting pan.  Add onion, fennel, and a generous pinch of salt, toss well to coat, and roast for about 40 minutes, stirring every 10, until onion and fennel have developed some nice golden color.  (Note: if you don't want to wait this long, boost the oven temperature to 450 degrees and roast for 20 to 30 minutes, stirring every 10 and watching closely).  While vegetables roast, make breadcrumbs: in a one-quart saucepan or small skillet, melt butter over medium-high heat.  Add crumbs, toss to coat, and continue cooking and stirring until lightly golden brown.  Remove the pan from the heat.  When the onion and fennel have caramelized, remove the pan from the oven and stir in the white beans followed by the kale and fennel fronds.  Stir in the remaining tablespoon of olive oil and season to taste with additional sea salt and freshly cracked black pepper.  Spoon into the prepared baking dish, sprinkle evenly with crumbs, and bake just until heated through and crumbs are rich golden-brown, about 15 minutes.