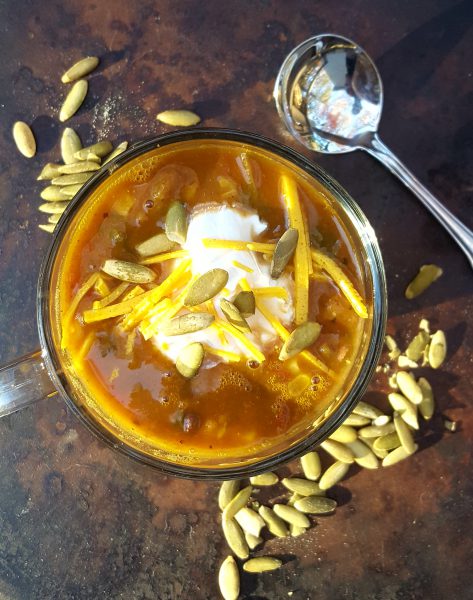 Yield: approximately 10 1-cup servings
I am happy to share another recipe that uses a traditional holiday ingredient–pumpkin–in a dish that bears no resemblance to Thanksgiving or Christmas foods.  I love holiday food as much as the next gal, but enjoy a break in between.
As a chili recipe, I don't think this one needs a lot of preamble. However, I would say that what sets this recipe apart from the thousands of chili recipes out there, if I do say so, is the beautiful and careful balance of flavors–tangy, hot, sweet, and ever-so-slightly bitter–and textures–chewy, silky, and creamy. The velvety pumpkin soothes the acidity of the tomatoes and chilies in a magical way.
Plus it is bursting with healthful ingredients. And the whole pot is under 2,000 calories or less than 200 calories per 1 cup serving. That's a whole lot of low calorie, low fat goodness.
Warm up with a cup!
Vegan Smokey Bean, Pumpkin, and Kale Chili
Note: All cans should be approximately 15 to 15.5 ounces:
2 tablespoons olive oil
1 medium onion, diced
1 bell pepper diced (yellow, orange, or red)
3 to 4 celery hearts, finely diced
1/2 teaspoon sea salt
3 to 4 large cloves garlic, minced
1 can fire-roasted tomatoes
1 chili in adobo sauce
1 tablespoon maple syrup
2 cans beans, rinsed and drained, any kind (I like a tri-bean mix plus cannelini beans)
1 can corn, drained
Optional: 1/2 bunch cilantro, tied with kitchen twine
1 can pumpkin puree
1 can green enchilada sauce, medium heat
1 package taco seasoning
1 tablespoon ground cumin
12 ounces beer or nonalcoholic beer
12 cups lighty packed baby kale (I don't remove stems, but you can)
Up to 1 cup water
Optional garnishes: vegan sour cream, vegan grated cheese, sliced green onion, fresh or pickled sliced jalapeno, sprigs of fresh cilantro, roasted and lightly salted pepitas, corn chips, etc.
Heat olive oil in a large heavy pot like a Dutch oven over medium to medium-high.  Add onion, bell pepper, celery, and a pinch of sea salt.  Saute, stirring frequently, until softened.  Add garlic, and saute, stirring, for 30 seconds.  Then, simply add all remaining ingredients, except kale, bring to a light boil, lower heat, and simmer for about 30 minutes to allow flavors to meld.  Add water to think if necessary.  Remove cilantro.  During the last 10 minutes of cooking, stir in handfuls of kale and allow to wilt. Serve in cups, mugs, or bowls garnished as desired.