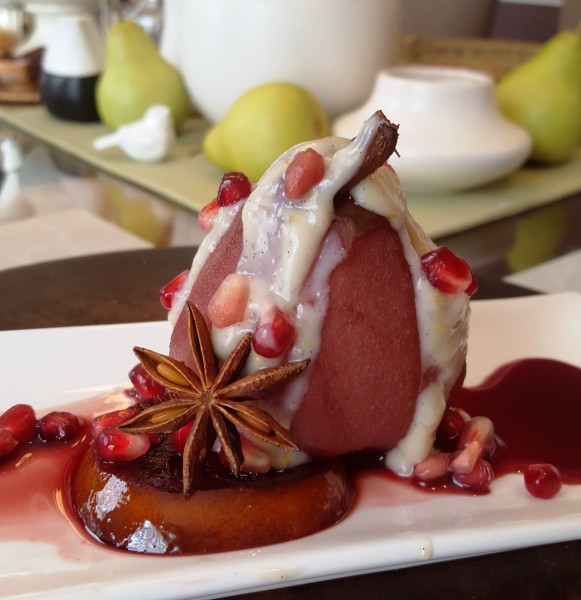 Since my husband passed away on July 30, I don't eat or cook as much as I once did.  But when I do, I try to make it extra-special as with this beautifully festive, deeply flavorful, but not-too-sweet dessert.
It is liable to be the prettiest guest with the best taste at your holiday table.
Wine Poached Pears
1 bottle (750 ml) vegan shiraz or other red wine (check out Barnivore for a nice list)
Juice of 1/2 lemon
1 medium orange, cut into 6 slices
1 cinnamon stick
1/2 cup sugar (I use demerera)
4 tablespoons maple syrup, divided
4 ripe pears, preferably with stems on for best eye-appeal
Coconut Cream (recipe follows)
Pomegranate seeds (life is too short–and, trust me, I know, to seed a pomegranate, so I buy the seeds in a carton; but here are simple directions for seeding your own)
Optional garnish: 4 star anise pods
Place all ingredients, except 2 tablespoons of maple syrup, in a large (4 quart) pot, partially covered, and bring to a simmer over medium-high.  Meanwhile, cut a thin slice from the bottom of each pear so that it will sit upright.  Using a mellon baller, core from the bottom to remove seeds and any membrane.  Then carefully place each pear, on its side, into the simmering wine and simmer about 25 minutes, turning after 10 to 15 minutes, or until very tender but not breaking down. Adjust heat, if necessary, to maintain a perky simmer.  Remove pears to a container or serving platter.
Add remaining 2 tablespoons maple syrup to poaching liquid, orange slices and cinnamon stick and boil, uncovered, until reduced by about half.  Liquid should be syrupy but pourable and will thicken as it cools.
For each serving, place an orange slice on each dessert plate, top with a pear, and spoon some of the red wine reduction over the top and around the base.  Follow with the Cococnut Cream.  Garnish with a sprinkling of pomegranate seeds and, if desired, a star anise pod.
Coconut Cream:
1 cup coconut cream (1/2 of 15.5 ounce can; note: if cream and liquid are separated, remove both, whisk or process together, and measure out 1 cup, refrigerating remainder for another use)
1 tablespoon sugar (I use demerera)
1 tablespoon maple syrup
Seeds of 1 vanilla bean pod (or 1/2 teaspoon pure vanilla extract)
1 tablespoon cornstarch
Zest of 1/2 lemon
Place all ingredients, except lemon zest, in small microwave safe bowl, whisk together, and heat for 2 to 3 minutes in 1-minute increments, whisking after each, until thickened to a sauce consistency.  Whisk in lemon zest.