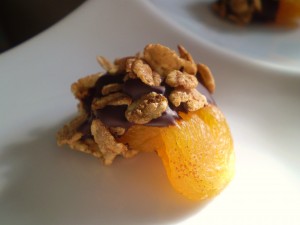 Well, if our dog, Huff's, national Superbowl celebrity hadn't overshadowed almost all else, I would have made these for our Superbowl party last Sunday and posted the recipe as part of my "Crash the SuperBowl Snack Recipe" countdown during the week leading up to the big event.
But alas, I didn't make them until Monday night to take to my AP art students' critique on Tuesday. We call them Critique Treats.  However, I also had Valentine's Day in mind.
These confections are as nutritious and delicious as they are beautiful.  And though each one looks like a precious gem, they are super-simple to make.  Another of  their best features is their texture contrasts: plump chewy dried apricots, silken dark chocolate and crunchy wheat berry flake and flaxseed cereal coating.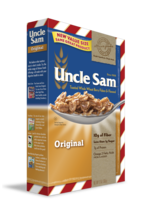 This recipe–which is more of a procedure than a true recipe–was inspired by a gift of Uncle Sam Toasted "Original" Whole Wheat Berry Flakes and Flaxseed Cereal from Alisa Fleming, founder of GoDairyFree, who also does some online marketing for Attune Foods.  When she asked if I'd be interested in reviewing a couple of cereals, and invited me to choose which ones I wanted, she happened to mention that my choices were good "recipe cereals."  So that got me thinking in terms of what I could do with the cereal besides eat it.
Though eat it I did.  I put a little in my mouth and closed my eyes to try to get in "tune" with its distinctive flavor.  I thought I detected the pleasantly subtle taste of barley malt, checked the box and, sure enough, there it was in the very short list of wholesome ingredients.  Otherwise, Uncle Sam is deeply nutty in flavor.  It just tastes wholesome, with pleasant texture contrasts.
So, next I poured a little unsweetened soymilk over it and tasted it before doctoring it up in any way.  I decided that–and this admittedly sounds odd–it would be tasty with a sprinkling of both nutritional yeast and natural sugar to create the same sort of savory-sweet appeal of Kettle Corn.  I loved it.   Be advised, though, that, even without the nutritional yeast and sugar, Uncle Sam's is calorie dense. I recommend measuring out the cereal so as not too meat too much.  Because it is so healthy and tasty–10 grams of fiber and 7 grams of protein with less than 1 gram of sugar per serving–it would be very easy to go overboard.
Not being much of a cereal eater–I get a little carried away with it in the house and don't know when to stop eating–I opted for making the treats mentioned above.  Still thinking in terms of dried apricots and nuts from my morning hiking in Back Bay Wildlife Refuge/False Cape described in a previous post, and with a bag of vegan chocolate morsels in the pantry, I decided to dip the apricots halfway into the melted chocolate and then roll them in the cereal.  The resulting color contrast of shimmering translucent orange and dark ebony brown chocolate studded with lighter brown flecks was just beautiful.
I can scarcely think of a more appealing nor unique box of Valentine's treats than these combined with my Peanut Butter Brown Rice Cereal Treats with a Dried Apricot-Almond Surprise.
Vegan Chocolate -Dipped Dried Apricots with Crunchy Coating
Yield: 24 confections
24 plump dried apricots
12 ounces vegan dark chocolate (you won't need this much, but I like the melted chocolate to be deep so that dipping is easy)
approximately 1/2 cup Uncle Sam's cereal
Line a baking sheet with waxed or parchment paper and set aside.  in a small microwave safe mixing bowl or a 1 quart saucepan set over a double boiler, gently melt chocolate.  While chocolate is melting, pour cereal into a small bowl.  Holding each apricot between your thumb and forefinger, dip halfway up in the melted chocolate, gently roll in the cereal, and place on the prepared baking sheet.  Store in the refrigerator between layers of waxed or parchment paper in an airtight container, but allow to come to room temperature before serving.
For 150+ more recipes for holidays and every day, please check out The Blooming Platter Cookbook: A Harvest of Seasonal Vegan Recipes.