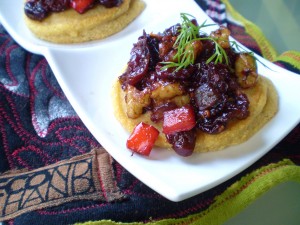 My mother always made a cherry pie on President's Day as a tribute to George Washington and the myth, now thought to be apocryphal, of him chopping down a cherry tree.  So, I had been thinking that I wanted to create some kind of cherry pie-inspired dish, but I wasn't sure what.
But then, last week on NPR, I learned of a new exhibition of Martha Washington's kitchen opening at Mount Vernon.   And in the report, they happened to mention her hoecakes being one of "GW's" favorite recipes.  Field hands are reported to have cooked them on the back of a hoe or shovel over an open fire, hence the name.
Essentially, they are a pancake made with half cornmeal–I use self-rising cornmeal since I don't use any egg–and half flour with melted butter in the batter.  Evidently, President Washington ate them every morning with more melted butter and honey drizzled over, as if they need more butter!  I veganized a recipe I found online and made them as small "silver dollar" versions so that they could be served as appetizers or tapas.  I also added a pinch of sea salt to offset the sugar nicely.
Joe and I served as judged for Hampton Roads Magazine's Platinum Plate Awards (what a fun thing to do together!) and so were comped a pair of tickets to the annual Strolling Supper Party last night at the Virginia Beach Resort and Conference Center.  The winning restaurants set up stations and provided tapas size servings of some of their specialties.  I love eating that way so I had tapas on my mind.  As an aside, the only restaurants that prepared anything vegan were the two Indian establishments, and what they served was delicious: a tiny portion of lentil soup with one plump organic crouton and a cold chick pea and lentil dish topped with pineapple, mango, pomegranate seeds, cilantro, and a sauce they left off because it contained yogurt.  It was DIVINE even without the sauce.
Back to the hoecakes: I didn't stop with just the hoecakes because I wanted to somehow include my mother's cherry pie tradition in my new tradition.  Since fresh cherries are hardly available in February, she always used canned cherries or even cherry pie filling and we always loved her pies with their homemade crust.   But, being a seasonal cook, I couldn't bring myself to use canned cherries, so when I chose dried ones, I decided to take them in a savory direction and make a chutney.
I think the end result is a fitting tribute to George and Mom.  Happy President's Day!
Start chutney first and set aside:
Savory Dried Cherry and Walnut Chutney
1 tablespoon olive oil
1/2 cup yellow onion, cut into 1/4-inch dice
1/3 cup red bell pepper, cut into 1/4-inch dice
1 large clove garlic, minced
1/2 cup chopped walnuts or walnut pieces
2 tablespoons maple syrup (note: you may use all maple syrup or all natural sugar)
1 tablespoon natural sugar
1 tablespoon apple cider vinegar
1 tablespoon nutritional yeast (optional, but I love the richness it adds)
1/2 teaspoon anise seeds
1/2 teaspoon celery seeds
1/2 teaspoon mustard seeds
1/2 teaspoon sweet paprika
Red pepper flakes to taste (start with about 1/4 teaspoon)
1/4 cup + 2 tablespoons red wine (I used a Vicious Petite Sirah–someone brought it to a party, probably because it had a dog on the label, but it's good and spicy!)
Sea salt and freshly ground black pepper to taste
Zest of 1/2 of a large naval orange
2 tablespoons minced dill
In a large cast iron skillet placed over medium-high, heat the olive oil to shimmering.  Add the onion and saute, stirring frequently, for about 3 minutes.  Add bell pepper and continue sauteeing and stirring for another 2 minutes.  Add garlic and saute, stirring, for another minute; avoid letting the garlic brown, so reduce heat if necessary.  Add all remaining ingredients except orange zest and dill, and simmer, stirring occasionally to avoid sticking, for approximately 10 minutes.  Reduce heat to medium if necessary and add additional wine, 1 tablespoon at a time if necessary to keep mixture moist and pulpy.  Stir in zest and dill, and serve warm or at room temperature atop hoecakes, toasted bread, crackers, etc.  Dolloped on soup?  Use your imagination!
Martha Washington's Veganized Hoecakes
Yield: 16 hoecakes
1 cup yellow self-rising cornmeal
1 cup wholewheat or white whole wheat flour (all-purpose is fine if that's what you have)
1/4 cup natural sugar (you may omit, but I think a little sugar is nice for balance)
1 teaspoon baking powder
1/4 cup vegan butter, melted (I use Earth Balance)
1 1/2 cups unsweetened soymilk (use plain if that's what you have, but definitely omit the sugar)
Preheat the oven to low.  In a medium size mixing bowl, combine dry ingredients.  Make a well in the center and add melted butter and soymilk.  Using a fork, whisk the dry and wet ingredients together until well combined.  A few lumps are fine.  In a large cast iron skillet over medium-high, heat about a tablespoon of vegan butter.  Fry hoecakes, about 4 at a time, using a generous tablespoon of batter.  Cook for approximately 2 minutes on each side until a light golden brown, adjusting heat as necessary.  Keep warm in the oven while you make the remaining 3 batches.  For each batch, melt a tablespoon of butter in the skillet before you add the batter.  Serve hoecakes with a dollop of the Savory Dried Cherry and Walnut Chutney.  Note: the hoecakes are delicious plain and/or with a drizzle of maple syrup.  But the chutney dresses them up and makes them extra special.
Photo Note: my hoecakes are perched on a plate atop a pot holder given to me by my good friend Becky Bump and made by our mutual friend, the incredibly talented Tammy Deane, who calls this line made from recycled or "upcycled" fabrics, sECOnd hand.
For 150+ more inspired seasonal recipes, check out a copy of The Blooming Platter Cookbook: A Harvest of Seasonal Vegan Recipes.