Yield:  3-6 x 3.5 loafs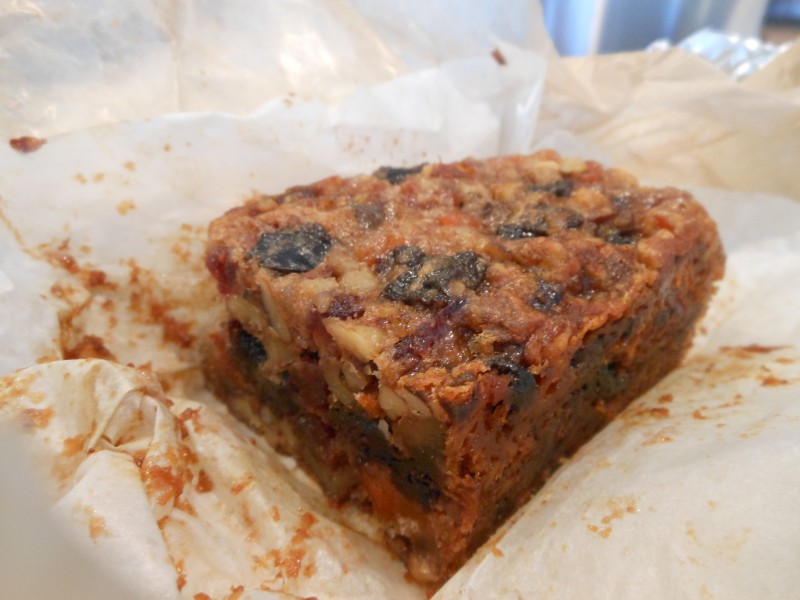 Forget everything you thought you knew about fruitcakes, the cake everyone loves to hate…
To say this is the best fruitcake I have ever eaten would not be saying much…you've heard the joke about there being only one fruitcake in the world and it is just passed around year after year?
However, this indescribably moist cake may be one of the Top 5 cakes I have ever eaten, period.  Okay, maybe 10 'cause there are a lot of delectable cakes out there.  But this one is like no other.
My dear friend, Sharon Tanner, an excellent cook, and her brother, with professional cooking experience, decided one year that, surely, there had to be a way to make a fruitcake that people would actually wanted to eat.  I mean, come on, why should fruit, nuts, flour, sugar, etc. not taste delicious in combination?  So they began experimenting and arrived at a recipe so intensely delicious–it packs a wallop as she says–that they even considered selling them at one time.  I, for one, would line up to purchase.
Instead, though, she generously shared her recipe with me and gave me permission to share with you.  Originally, the cake was not vegan, but she asked me how I would veganize it so that she could make me and a couple of other friends mini-loaves.  I recommended that, for every egg, she substitute 1/4 cup moisture of some kind, 1 teaspoon of baking powder, and 1/2 teaspoon of baking soda.  She did, using her homemade apple butter (apple butter contains no "butter") as the moisture, though it is readily available in grocery stores.  Butter was never an issue because, according to Sharon, "eliminating butter makes the cakes better, denser and they hold their shape and slice much better."  When all is said and done, there is no way the non-vegan version could be any better than this vegan one.
What's the secret?  There are a few.  One is that this cake contains NO candied or crystalized fruit nor maraschino cherries.  Nada.  But it is chock full of dried fruits, which points to another secret: a combination of various dried fruits for subtle flavor notes.  And the second is the amount of nuts and, again, the variety of types.  Sharon recommends "Cherries, cranberries, raisins, dates, prunes, pineapple, blueberries, apricots in any combination. I think it's best heavy on the cherries and should include pineapple.  Mixed nuts can be heavy on walnuts, but can include pecans, almonds and Brazil nuts."
So, with no further ado…ta-da, a fruitcake that will have 'em beggin' for more!
3 cups dried (not candied!) fruit, finely chopped
2 1/2 to 3 cups mixed nuts, finely chopped
3/4 cup flour
3/4 sugar
1 tablespoon baking powder
1 1/2 teaspoons baking soda
3/4 cup apple butter with spices (prepared or homemade)
1 tablespoon of vanilla
4 to 6 tablespoons rum, divided
Note: fruit and nut pieces should be slightly smaller than a pencil eraser, according to SHaron.
Line 3-6 x 3.5″ loaf pans with greased parmchment paper and preheat oven to 350 degrees.
In a large bowl, combine dried fruits and nuts.  In a medium bowl, whisk together flour, sugar, baking powder, and baking soda.  Sprinkle over fruits and nuts, toss to combine, and then fold in apple butter and vanilla.  It will eventually all stick together, but you may sprinkle in a touch of water if needed to help all of the ingredients combine, as the batter is very forgiving.  Moisten hands with water and press 1/3 of the batter into each pan.  Bake 50 to 60 minutes; the cakes will puff a bit and then settle as they cool.  Once they have cooled enough to handle, remove them from the pans, and douse them with 2 tablespoons rum on all sides.   Wrap well in waxed paper, leave unrefrigerated, and in about 2 days, unwrap and douse them again with 2 more tablespoons of rum, making sure to soak the bottoms, as well.  If possible, 2 days later, unwrap and do a third and final dousing of rum, rewrap, and then serve the next day or shortly thereafter.  Delicious served at room temperature or slightly heated.  Note:  one of Sharon's friend's mother recommends using apple brandy instead of rum and keeping a slice of raw apple wrapped for a bit with each cake.