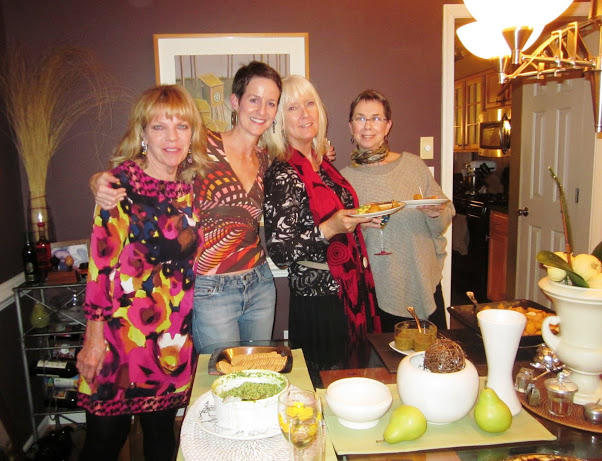 12/12/12 marked the eve of the 12 anniversary of my annual "Christmas, Chanukah, Curry & Cakes" party.  That's a lot of twelves!
Each year, about 20 or more (not 12) of my "peeps" gather at Joe's and my home on the second Wednesday of December for some holiday cheer.  For ten years, the format was a veg curry dinner–with lots of fun toppings–and gifts for all.  Nobody was complaining…quite the opposite: it was a much-anticipated get-together.
But, last year, I decided to shake things up a bit by hosting the annual fete as a "swap" of new or gently used items no longer needed or wanted.  It was such a hit–we all got so much holiday swapping done!–that I did it again this year and probably for the next ten!  You can read all about last year's party,  including simple directions for hosting your own swap and the vegan menu with some dishes from The Blooming Platter Cookbook, HERE.
For this year, I changed all but one dish–the Indian Saag Dip–to create the following menu:
(served with toothpicks)
*Brie with Red Grape Chutney atop "Everything" Crackers
**Red Velvet Shortbread Cookies with Dark Chocolate Drizzle & Sugar Pearls
Organic Cava
*From The Blooming Platter Cookbook (Note: I didn't wrap the brie in pastry and bake it.  Rather, I spread the chilled "cheese" on a serving platter and topped it with a different chutney than that in my cookbook.  For a similar result, you could substitute red grapes in the recipe in the cookbook recipe.)
**This delicious and simple recipe is not yet posted–sorry!