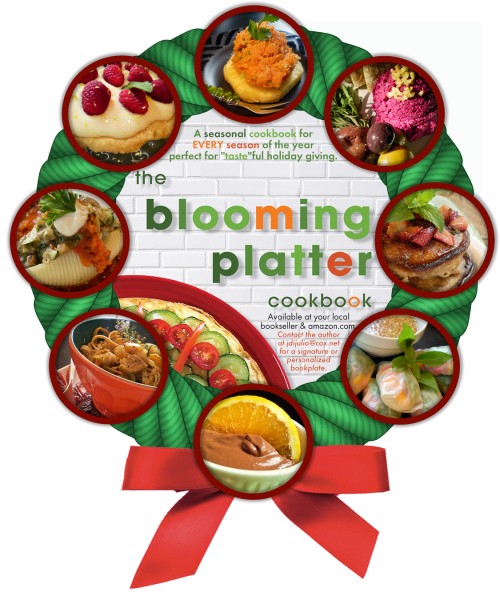 Whether you are continuing your holiday shopping from Black Friday and Cyber Monday or just getting started, I would like to humbly suggest–with no pressure at all–that The Blooming Platter Cookbook: A Harvest of Seasonal Vegan Recipes might make a perfect gift for the plant-powered person in your life!
With "Four Seasons of YUM!" as someone once said, it really is the gift that will give all year… for many years.   Each chapter of appetizers, sandwiches, soups and much more is sub-divided into the four seasons with beautiful icons in the top corner of the pages, so it is a cinch to find delicious and nutritious dishes for every meal of the day regardless of the month of the year.
Beautiful things can bloom on your platter even in the coldest winter months, say:
White Bean and Pesto Tart
Roasted Cauliflower Salad with Mustard Vinaigrette
Pear, Walnut and "Blue Cheese" Sandwiches
Sage-Scented Fettuccine with Butternut Squash
Burgundy Poached Pears with Rosemary-Scented Onions
Pear-Rum Cupcakes with Tea-infused Buttercream Frosting
Grits and Greens with Mushroom Gravy
I would love to see you support your local bookseller, but Amazon is running sale…If you live in the local area, I am happy to meet up with you to personalize your book.  But if you live far away, I am happy to personalize and sign a custom-designed bookplate and mail it to you or the book recipient.
Thank you for your support of The Blooming Platter; here's wishing you and yours a lovely start to the holiday season!
~betsy d.