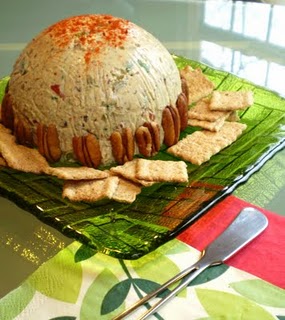 Yield: 1 "cheese" ball
Born in Texas, raised in Mississippi, I am a deeply south'ren girl. I subscribe to Southern Living magazine (it's been updated if you haven't seen it lately), Magnolias are one of my favorite trees, and Eudora Welty is one of my favorite authors. BUT, I like my collard greens without fat back and my tea without sugar, thank you very much.
For entertaining, we southerners love our cheese balls and we make them a million different ways. However, when I became vegan, I thought I'd tasted my last. Now that the holiday season is here, I found myself craving one in the worst way, both for the taste and the festive appearance. Though there is vegan cream and block cheeses on the market, I wanted one even more low fat. So I decided to limit myself to tofu and see what I could come up with.
If the non-vegan guests at a party I took it to last night are any indication, this is a winner. I think it's safe to say that it was "set upon."
Smoked almonds replaced the bacon which I decided to combine with pimento-stuffed green olives both for their briny pungency and their holiday color scheme. Mixed with the sweet scallions and a few other ingredients like nutritional yeast and miso to make the tofu taste "cheesy," the combination of flavors transported me back to all the best parts of the Deep South.
14 ounces (drained weight) firm tofu (you may use extra firm, if you want the ball stiffer)
4 tablespoons nutritional yeast
1 tablespoon miso
1 tablespoon vegan mayonnaise
1 tablespoon Amino Acids
2 teaspoons mustard
pinch paprika
coarse sea or kosher salt to taste
freshly ground black pepper to taste
2 scallions, thinly sliced
1 cup smoked almonds, finely chopped
5 ounce jar of pitted green olives (you could use black if you prefer), drained and finely chopped
Garnish: pecan halves, finely chopped pecans, finely chopped parsley, and/or paprika
Puree first nine ingredients in food processor until smooth, stopping and scraping down bowl as necessary. Transfer to a medium mixing bowl and stir in last three ingredients by hand.
Line a medium sized bowl–as half-spherical in shape as you can find–with plastic wrap. Spoon and press "cheese" mixture firmly into bowl; smooth top. Fold ends of plastic wrap over to cover. Refrigerate at least overnight. (I like to refrigerate it for a couple of days to really allow the flavors to marry.) Fold plastic wrap back from top surface of "cheese" ball, place a serving platter on top, and invert ball onto platter. You may have to tug gently on corners of plastic wrap to help it release. Remove plastic wrap, garnish as desired, and serve with crackers or small toasts.