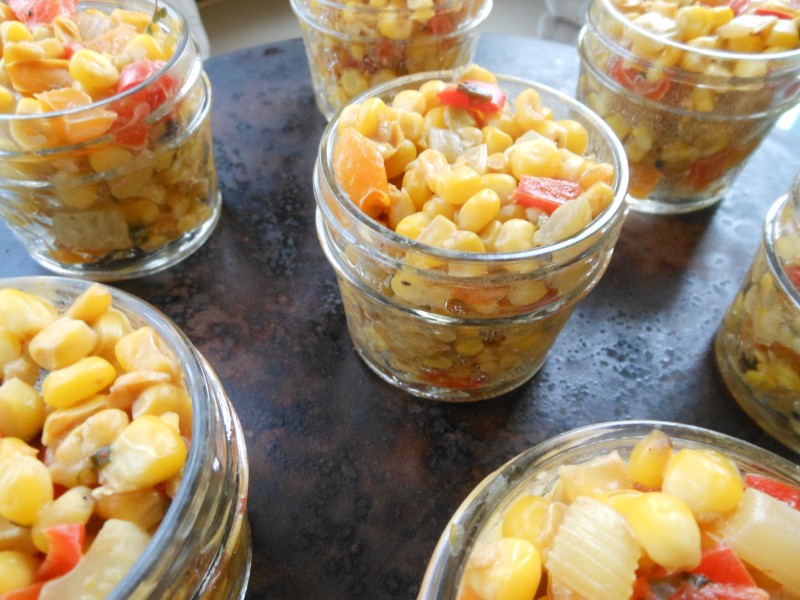 Having stayed in the New Orleans French Quarter with my family over Thanksgiving, I returned home with Corn Maque-Choux on my mind.  None of the versions that tempted me on menus there were vegan, so I was obsessed with giving it a try in my own kitchen.
Though corn is quite the summer vegetable, I was craving this Cajun mainstay, so I used frozen corn, and it was delish.  Many versions of this recipe abound so, after consulting several, I just started cooking from memory.
I rather like my take on this standard: slightly spicy from dried pepper flakes and a hint of smoked paprika, in addition to the requisite fresh thyme.  Plus, with it's flecks of red bell pepper and green onion, it looks very festive for the holidays.
Plannig to make it a while ago–but becoming sidetracked–and having already purchased the produce, I realized I still had it on hand, yet I am heading out of town on Monday.  So, I had to use it up and, in a flash, realized that the Maque-Choux packaged in small glass canning jars that I happened to have would make a very festive food gift for guests at a luncheon I was privileged to attend at noon.  (Stay tuned for recipes from close friend Trish Pfeifer's inspired meal.)  So, I went into high gear, also making a Vegan Fresh Fennel and Cranberry Chutney and bird ornaments from recycled Kleenex boxes–tucking all three with alittle tissue inside holiday gift bags–before going to yoga at 9:30 (okay, I was late: 9:40!).  Thank goodness Minnie wakes me up early!
1 tablespoon olive oil
2 bell peppers, diced (I used a red and an orange, but both red or 1 red and 1 green is nice too)
Sea salt
4 celery hearts, diced
6 green onions, sliced
2 to 3 cloves garlic, minced
2-12 ounce packages frozen corn (about 5 1/3 cups)
Freshly ground black pepper to taste
1/4 teaspoon smoked paprika
1/4 teaspoon dried red pepper flakes (or to taste)
1 tablespoon unbleached all-purpose flour
1/4 cup plain coconut creamer
1/4 cup unsweetened soymilk
Heat olive oil in a large cast iron skillet over medium-high heat.  Add bell peppers and a pinch of salt and saute, stirring occastionally, for about 3 minutes or until softened.  Add celery, and do the same.  Stir in green onions and garlic and saute, stirring frequently, for another minute or two.  Add corn and cook, still stirring occasionally, until defrosted and heated through.  Sprinkle with pepper, smoked paprika, dried pepper flakes and flour, and stir to combine.  Drizzle creamer and soymilk over the top and cook, stirring frequently, for about 3 minutes or until flour no longer tastes raw and mixture is thickened.  Adjust seasoning if necessary and serve or spoon into an airtight container(s) and refrigerate.