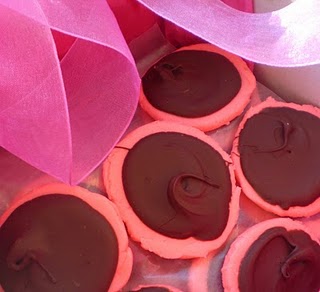 Yield: 30 candies
I was a fan of York Peppermint Patties in my vegetarian days. Recently, I've been coveting the pretty heart-shaped pink variety that Helen Cox, our beloved IB Coordinator, keeps in her candy dish. So, I decided to make her a well-deserved box of vegan ones for an early Valentine's gift…and, of course, sample a few in the process.
I'm sold! I found a very fine recipe at ChooseVeg.com. The only changes I made were to 1) dry them longer than instructed and flip them during the process; 2) add a little vanilla in addition to the peppermint extract for a more nuanced flavor; and 3) spread chocolate on the top of each patty, rather than dipping them, as dipping can be hit-or-miss for me in the make-a-mess department. I also think they'd look snazzy drizzled with the chocolate Jackson Pollock-style.
Oh-so-pretty in pink, these can also be tinted green for Christmas or even St. Patty's Day. To give as gifts, layer them between pieces of waxed paper in a colored tissue paper-lined box, tied with a ribbon.
4 tablespoons vegan butter, softened (I use Earth Balance)
1/3 cup light corn syrup
two drops of red or green food coloring
4 3/4 cups powdered sugar
1 teaspoon peppermint extract
1/4-1/2 teaspoon vanilla extract
9 ounces semi-sweet or bittersweet vegan chocolate
Line baking sheet with waxed or parchment paper or Silpat. Cream together first three ingredients. Beat in powdered sugar, 1/2-1 cup at a time, then beat in extracts until mixture is uniform in color, very smooth and quite stiff, but not in danger of cracking. Using a very small scoop, make 30 balls a couple of inches apart on lined baking sheet. With the oiled bottom of a glass, press balls into a disk about 2-inches in diameter. (Using two fingers, hold down the baking sheet liner as you lift the glass away to help prevent sticking.) Let patties dry, uncovered, in a cool place for 2 or more hours. When fairly firm, flip patties to help dry the other side. Melt chocolate at 30 second intervals in a small bowl in the microwave or over simmering water on the stove top. Whisk between intervals until very smooth. Allow to cool somewhat, but remain spreadable. Spread tops of each patty with 1/2 teaspoon or so of chocolate, or drizzle decoratively across surface, Jackson Pollock style. Allow to dry/harden a couple more hours in a cool place and then refrigerate for a few more before packaging. Note: you may add sprinkles or other decorations while chocolate is still soft. I like the minimalist approach, but I think it looks nice to choose a few to embellish, sort of like Harry and David includes one gold foil-wrapped pear in each of their gift boxes.
Source: Slightly adapted from ChooseVeg.com