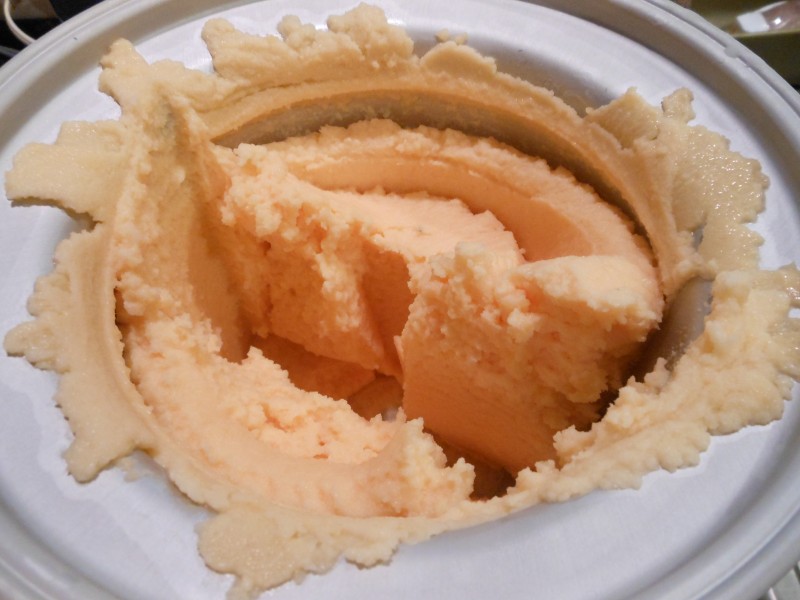 Yield: 1 quart
Tomorrow night is our much anticipated annual Julia Child Birthday Bash.  This sophisticated French potluck dinner brings out the best in our foodie friends each year and I can hardly wait for the parade of beautiful people and food to begin.
Among my contributions will be this sorbet inspired by a MS grown cantaloupe that a friend of my parents'  brought to them when I was visiting there last week.  I like cantaloupe fine, but "don't wake up screamin' for it," as my father would say.  That one, however…wow!  It was so creamy and delicious that it tasted like ice cream with a mouthfeel to match.  I knew at that moment, that I would come home to try my hand at a vegan sorbet, as the "rules" of the party are that all food must be either made from a Julia Child recipe or French-inspired.  Sorbet fits the bill perfectly.
I am so glad that I made it for a party, as I might just polish off the whole carton if we weren't expecting guests!
Note:  make this sorbet 1-2 days before you plan to serve it, as the base needs to chill and the ice cream is best of allowed to ripen.
1 medium-large cantaloupe, halved, seeded, and flesh scooped out with a spoon, divided
1/4 cup arrowroot starch
1–15 ounce can Cream of Coconut (Coco Lopez is a common brand sold where drink mixers are sold; not coconut milk or coconut creamer)
Juice of 1 large lime
Place flesh from one half of cantaloupe in food processor and process until smooth.  Strain into a medium bowl, return any large pieces to processor, and whisk 1/4 cup arrowroot starch into the puree.  Process remaining half of cantaloupe with Cream of Coconut until very smooth.  Strain  into a 4-quart saucepan and bring to a simmer over medium-high heat.  (Pop any large unprocessed pieces right into your mouth!)  Remove from heat and immediately whisk in cantaloupe-arrowroot mixture.  Allow to cool, whisk in lime juice, and then chill several hours or overnight, covered.  Freeze in an ice cream maker according to manufacturer's directions; this took about 40 minutes in my Cuisinart.  Serve  immediately or scrape into a covered carton and freeze to allow to ripen until serving time.