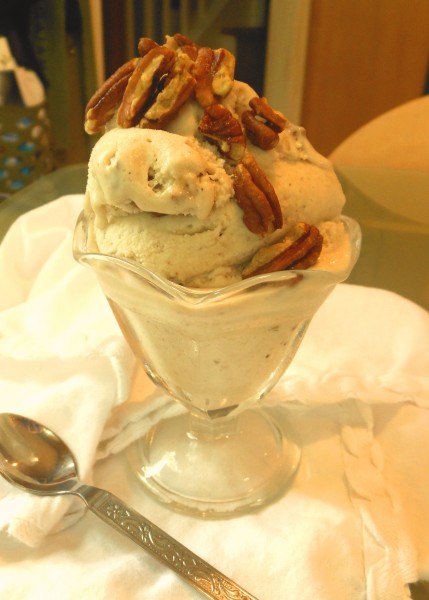 Yield: 1 quart
Just in time for Memorial Day menu planning, I am excited to offer you my newest creation: Bananas Foster Ice Cream with Caramelized Pecans!
Growing up in the Deep South, only about a three-hour drive from New Orleans, I was weened on the historic French Quarter and it's legendary cuisine.  My parents honeymooned there, as did my husband and I, and we returned to the Creole capital to host my parents' 50th wedding anniversary, among many other trips in the distant and recent past.
Favorite French Quarter-steeped memory fragments abound, many having to do with food, like, as a fairly young child, trying to act completely nonchalant  as Bananas Foster and Cherries Jubliee burst into flames on rolling carts tended by tuxedoed waiters throughout Brennan's dining rooms.  I guess I wanted fellow diners to think that flambeed desserts were a nightly affair back home.
For some inexplicable reason, I recently became obsessed with the idea of Bananas Foster in the form of ice cream–since it is served over vanilla ice cream–to combat our already high 80 to 90-degree days.  Sure, recipes on the internet abound–though few that are vegan–but I love a challenge, so I had to create my own…and I'm so glad I did.
Using canned Coconut Cream and So Delicious Coconut Creamer as the ice cream base makes this recipe go together in a flash.  And the few minutes it takes to caramelize the bananas are more than worth it.  While traditional Bananas Foster does not call for pecans, I associate them with Creole and Cajun cooking, so I caramelized some in the syrupy goodness left clinging to the skillet, and I'm really glad that I made this ever-so-slight break with tradition.  I think you will be too!
Make this ice cream a day or two before you plan to serve it, as the mixture must be well-chilled before making the ice cream, and the ice cream must set up in the freezer before serving.
3 tablespoons vegan butter
1/3 cup natural sugar
3 small bananas (about 3/4 pound), peeled, and sliced into 1-inch pieces
Pinch sea salt
1/4 teaspoon ground cinnamon
1/2 cup raw pecan pieces
1 can Cream of Coconut (NOT coconut creamer; this product is canned and sold near adult drink mixers; Coco Lopez is a popular brand)
1 cup So Delicious Coconut Creamer
3 tablespoons coconut rum (or plain rum)
1 teaspoon vanilla extract
Optional Garnish: a sprinkle of pecan pieces
Melt butter in a large cast iron skillet over medium-high heat.  Add sugar, and cook for about 2-3 minutes or until thickened and caramel-y.  Add bananas and cinnamon and cook, stirring frequently, for up to 10 minutes or until the caramel is very thick and bananas very tender and coated with the caramel.  Reduce heat if necessary.  Scrape pan out well into the bowl of a food processor.  Return pan to heat, add pecans, and toast, stirring constantly for 3-5 minutes or until lightly toasted.  Reduce heat if necessary.  Transfer to a covered container and reserve.  Process banana mixture with cream of coconut until creamy and very smooth.  Transfer to a bowl, and whisk in Coconut Creamer, coconut rum, and vanilla extract, and process until very smooth.  Cool and refrigerate, covered, several hours or overnight until very cold.  Freeze in ice cream maker according to manufacturer's directions, swirling in pecans when ice cream is almost ready.  Transfer ice cream into a carton, cover, and freeze for several hours or until firm.  The texture will be delectably soft, but will hold its shape.