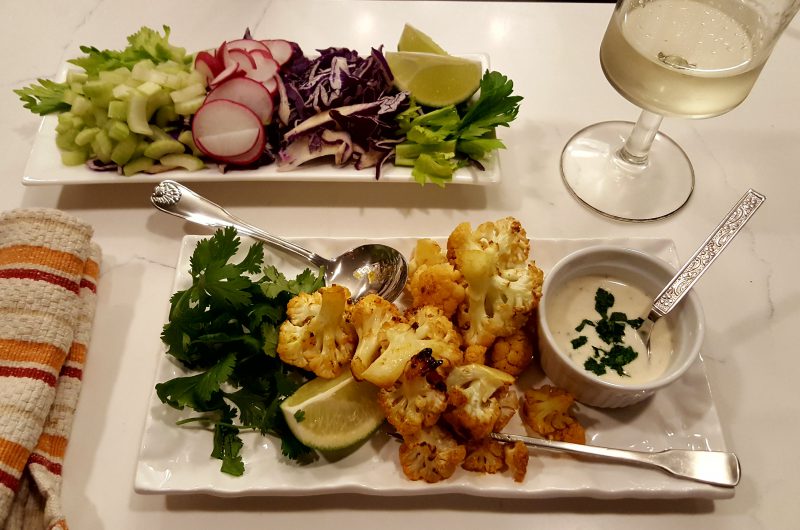 Yield: 2 servings
Late to the Buffalo Cauli party, I had plenty of time to research recipes. Though I love battered and fried as much as the next gal–and even came across a battered and baked method which piqued my interest–and bevause I have no interest in a dehydrator, I decided to simply roast the cauli. Good choice.
So I carefully selected my Buffalo Sauce ingredients from a range of options, balancing my desire for a simple, quick recipe with an even stronger desire for complex, harmonious flavor notes.
The result is a mouth-explosion whose layered flavors belie the low calorie and fat count and throw-together quick prep time.  Add toppings and sauce–and a warmed corn tortilla if you like–and this is one beautiful, textural powerhouse of a meal.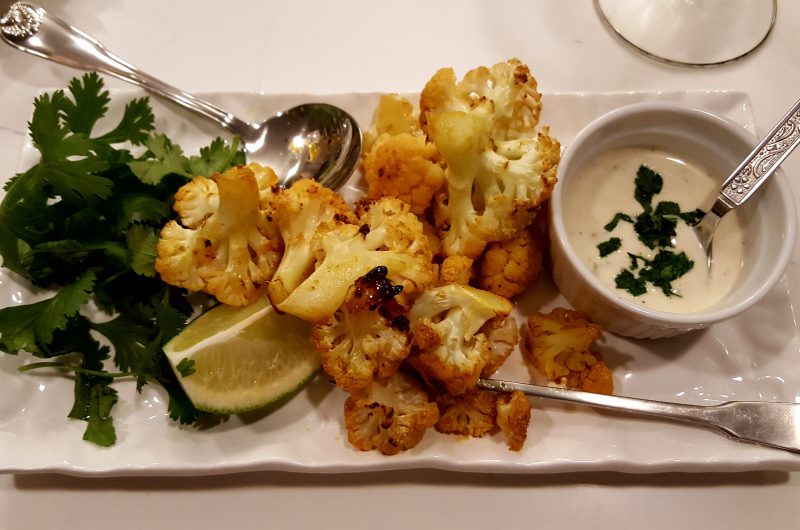 My dear friend and dinner guest, Jill, confessed to not brushing her teeth Friday night before bed to "savor the flavor mix in my mouth." I don't necessarily recommend not flossing and brushing, but I do recommend this dish.
2 tablespoons melted vegan butter
3 tablespoons Pete's Hot Sauce
1 tablespoons vinegar
1/2 teaspoon soy sauce
1/2 teaspoon garlic powder
1/2 teaspoon onion powder
1/2 teaspoon granulated sugar (I use demerera)
1/4 teaspoon ground cumin or curry powder
1/4 teaspoon smoked paprika
Freshly ground black pepper
Condiments: shredded red cabbage, sliced celery and radishes, cilantro leaves, lime wedges, and a vegan ranch-type dressing (I use Just brand) sprinkled with chopped parsley.
Optional: 4 warmed corn tortillas
Stir or whisk all ingredients together except cauliflower, condiments, and tortillas.
Place cauliflower on metal baking sheet or roasting pan, spray lightly with cooking spray, lightly salt, and roast 10 minutes. Drizzle with sauce, toss, and roast another 10 to 20 minutes depending on preferred degree of caramelization.
Serve inside warmed corn tortillas–or not–with condiments piled on top and dressing drizzled over.