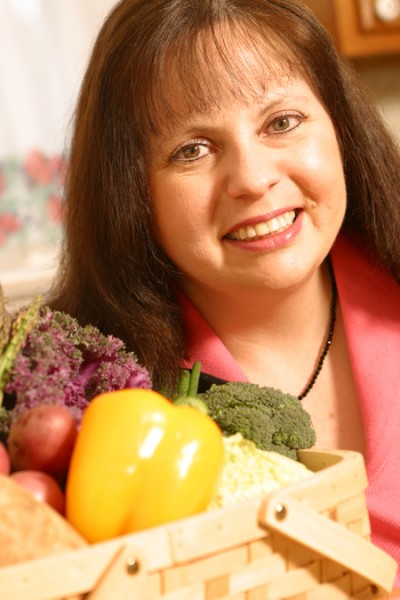 Based on Actor's Studio host's James Lipton's famous "Q & A"–after the Proust Questionnaire–"Vegan Q & A Tuesday" is The Blooming Platter's  first Tuesday feature on a creative force in the vegan culinary world.  Read more about "Q & A Tuesday" HERE.
Featured Force: 
Robin Robertson

(See below for Robins's Linguine with Thai Pesto recipe.)
Robin Robertson has written more than twenty cookbooks, including the bestsellers Quick-Fix Vegan, Vegan Planet, Fresh from the Vegan Slow Cooker, Vegan Fire & Spice, Nut Butter Universe, and One-Dish Vegan. A longtime vegan and former restaurant chef, she writes the Global Vegan column for VegNews Magazine and has written for Vegetarian Times, Cooking Light, Natural Health, and other magazines. Robin lives in the Shenandoah Valley of Virginia. Her website is www.robinrobertson.com.
1. What is your favorite word?
Amuse Bouche.
2. What is your least favorite word?
Gastropub.
3. What turns you on?
Preparing a special meal for friends.
4. What turns you off?
Being out of a needed ingredient I can't find locally — especially when craving a certain recipe.
5. What sound or noise do you love?
"Mmmmmm….." (when someone eats my food)
6. What sound or noise do you hate?
The crash of a glass or plate falling – especially when full of drink or food.
7. *What makes you curse in the kitchen?
Burning my arm on a hot pan usually does the trick.
8. What profession other than your own would you like to attempt?
I'd like to own a B &B (but only if I didn't have to do all the work myself!)
9. What profession would you not like to do?
Anything that involves numbers.
10. If heaven exists, what would you like to hear God say when you arrive at the pearly gates?
*Lipton's question #7 is always "What is your favorite curse word?"–and the answers are always colorful– but I reworded it since this is a "family show."
Good job!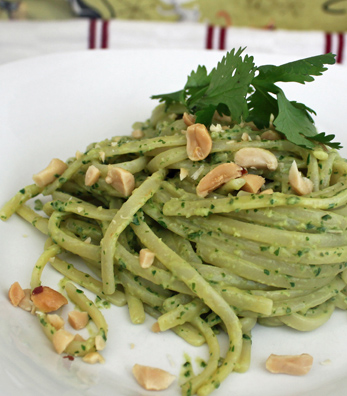 Robin's Linguine with Thai Pesto
Redolent of garlic, lemongrass, and pungent herbs, this Asian-style pesto makes a fabulous fusion dish when combined with linguine. Most of these ingredients, including the slender, hot Thai chile, are available in supermarkets. Thai basil can be found in Asian markets, as can any of the other ingredients that your regular market may not stock. To make this gluten-free, use gluten-free pasta or rice noodles. This recipe is from Nut Butter Universe by Robin Robertson © 2013.  Used with permission.
Gluten-Free Option
Soy Free
Serves 4
2 large cloves garlic
1 Thai bird chile, halved lengthwise and seeded
1 stalk lemongrass, white part only, chopped
1 teaspoon natural sugar
1/2 teaspoon salt
1 cup Thai basil leaves
1/2 cup cilantro leaves
1/2 cup parsley leaves
1/3 cup peanut butter
3 tablespoons water
2 tablespoons fresh lime juice
12 ounces linguine
1/2 cup chopped roasted peanuts
Combine the garlic, chile, lemongrass, sugar, and salt in a food processor and process to a paste. Add the basil, cilantro, and parsley and process until finely ground. Add the peanut butter, water, and lime juice and blend thoroughly, scraping down the sides of the bowl as needed. Set aside.
Cook the linguine in a large pot of salted water just until tender, about 12 minutes. Drain, reserving about 1/2 cup of the water.
Toss the pasta with the sauce, adding a little of the hot pasta water, if necessary, to thin the sauce. Garnish with peanuts and serve immediately.