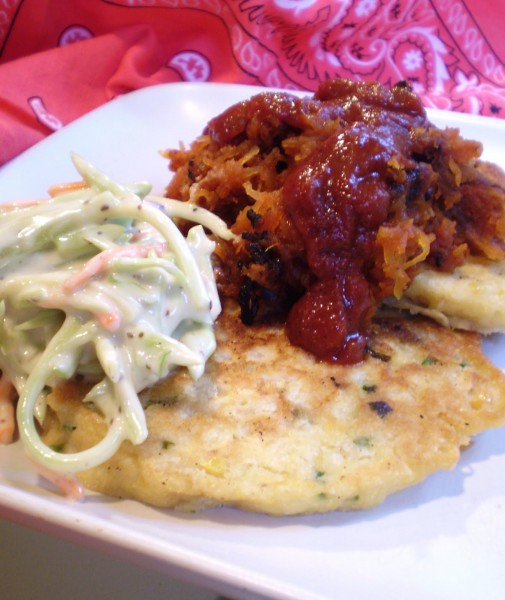 Hi all!  I've been on vacation for 5 days and have missed cooking and posting.
But I was delighted to return home and find a pingback related to my Vegan "Pulled" Spaghetti Squash.  Evidently, it had been featured by Karen Troughton on KitchenTreaty in 2012.   I don't know much about this site other than what the tagline says "Vegetarians and Meat-Eaters CAN Live Together."  But, regardless, thanks Karen!
As it happens, I found my mouth watering at the aroma of barbecue in the Houston International airport yesterday on our way home from (fabulous!) Aspen.  So, it seems that the universe is telling me that I need to remind readers about this recipe for summer BBQ enjoyment!
If you visit the KitchenTreaty post, you'll see a couple of things:
1) That Karen created her own sauce recipe.  It contains a far shorter list of ingredients than mine but, trust me, I tweaked the flavor profile so that, at least to my palate, it is perfect!  And the only extra time involved is opening a few more spice jars.  The resulting sauce is well worth a tiny bit of extra effort.  So I wouldn't tinker with my recipe unless you have a BBQ sauce that is your absolute favorite.
2) It appears, at least from her photograph, that her final dish ended up very moist. I like it much dryer, as in my photograph, so that the pile of "pulled" barbecue stands up nicely on it's own, much like it's non-vegan inspiration (see my photo above)–rather than sitting sort of puddle like on the bun. 🙂
But, however you like it–wet or dry–enjoy!  (Oh, and you'll love my corn cakes and slaw in my recipe too!)