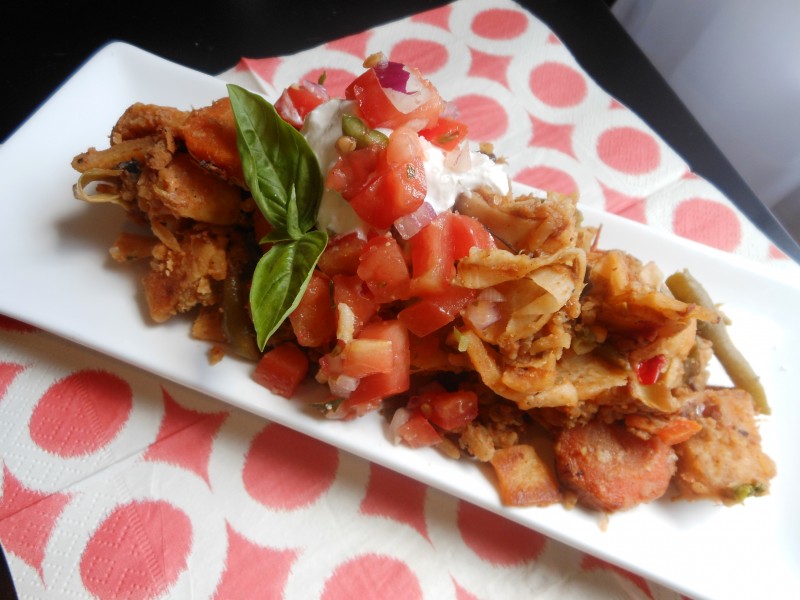 Yield: approximately 4 main dish servings (2 if you are really hungry)
My Migas Mash-Up is more of an idea than it is a recipe because it all depends on what is hanging out in your fridge.
Yesterday, realizing that we were heading into the weekend and that I am leaving town on Tuesday was leaving me feeling a little stressed about what to do with last week's restaurant leftovers.  Food waste makes me crazy and Joe and I dine out about three times a week, often bringing home leftovers.  He is not the best about eating his veggies and "carbs"–yes, he's one of those–and restaurant portions tend to be too large for both of us.
Remembering that among the leftovers were 6 small flour tortillas, I wondered about migas: crisped up tortilla strips, traditionally scrambled with eggs (or tofu for vegans) and other traditional Mexican ingredients.  Though, we did have some refried beans and Mexican rice in the mix, there was plenty that was more "New American" which I felt would be compatible with the Mexican flavors, and a little Italian that wasn't assertively seasoned, so I decided to go for it.
Friday night, we had been to an Italian restaurant where I enjoye bruschetta with chopped tomato, red onion, and slices of grilled eggplant.  I removed and diced the eggplant, and transfered the tomato and onion into a separate bowl to use as a kind of pico de gallo over the top.  I diced the grilled bed and set it aside with rolled and sliced tortilla strips.
Other odds and ends–all in very small amounts of 2 to 4 tablespoons–in addition to the refried beans, Mexican rice, eggplant, tortillas, and grilled bread included a more risotto-like rice, caramelized onions (sort of fajita style), bronzed carrots (slices of carrot roasted with blackening seasoning and brown sugar), green beans cooked with tomatoes and onion, very thick pureed white bean soup, about 5 sweet potato fries, a couple of artichoke hearts, a dab of roasted red peppers, and half of a veggie burger made with black beans and corn.
I would estimate there was, all together, approximately 2 cups of grain, bean/legume, and vegetable ingredients and about 1 1/2 to 2 cups of tortillas and bread.  Following is how I put it all together for a crave-worthy dish that was more than the sum of its parts.   And I encourage you to give it a try using whatever leftovers–from restaurants or home-cooked meals–provided all flavors are reasonably compatible and that you have some kind of bread to include: tortillas, baguette, cornbread, vegan naan or flatbread, etc.  If onion isn't included in your leftovers, you might want to included some diced or caramelized sauteed onion. My amalgamation required no additional seasoning other than salt and pepper, but if you need the addition of a couple of spices to bring it all together, by all means!
6 flour tortillas, rolled and sliced
3 bias-cut slices of grilled baguette, cubed
2 tablespoons vegetable oil, divided
1 tablespoon vegan butter
Sea salt and freshly ground black pepper to taste
Approximately 2 cups of vegan sliced and/or diced cooked aromatics (like onion and garlic) vegetables, beans/legumes, and grain-based leftovers
Garnish: vegan sour cream, pico de gallo or salsa, and sprigs of fresh basil or cilantro
In a large cast iron skillet over medium-high, heat 1 tablespoon vegetable oil and 1 tablespoon butter.  Add tortillas and baguette and saute for 3 to 5 minutes or until lightly crispy and golden brown.  Transfer to a plate in a thin layer so that they remain crispy while you proceed with the preparation.  Heat remaining tablespoon oil in the skillet and begin adding ingredients, starting with onion, and adding ingredients of similar textures together–softest last–and heating through for about a minute before adding the next ingredient.  Be sure to scrape the "fond" or brown crust off the bottom of the skillet periodically, lowering heat if necessary and avoiding drying out the misture too much; it should be about the consistency of bread pudding.  At the very end, fold in the crispy tortillas and bread and heat through.  Serve immediately topped with a little vegan sour cream, pico de gallo or salsa, and sprigs of fresh herbs.