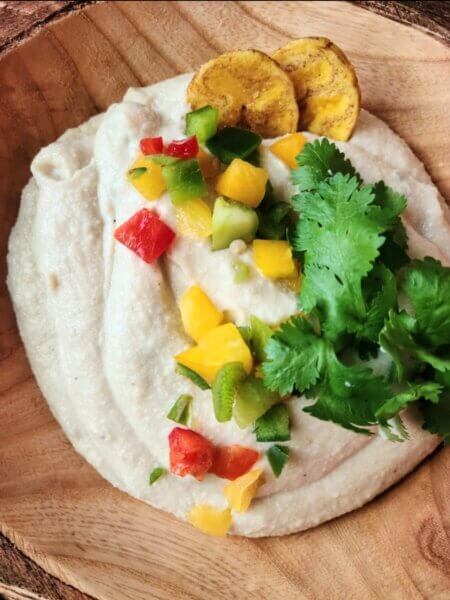 Vegan and plant-based queso blanco is typically made with cashews and potatoes, but mine is made with cashews and cauliflower for fewer calories and loads of nutrition. Served with plantain chips, it is my new obsession.
Yield: approximately 4 cups
12 ounces cauliflower florets
2 cups raw cashews
4 cups water
1 teaspoon sea salt
1/2 teaspoon garlic powder
1/2 teaspoon onion powder
1/4 teaspoon ground cumin Juice of 1 medium lemon
2 tablespoons brine from a jar pickled jalapeños
1 tablespoon nutritional yeast
2 teaspoons white miso
1 tablespoon cornstarch
4.5 ounce can chopped green chilies with juice
Garnish: Fresh cilantro and finely diced bell pepper (I like tri-color)
Accompaniment: plantain or tortilla-style chips; also delicious served over Mexican dishes like enchiladas, Quesadillas, and nachos
Place cauliflower, cashews, water, and sea salt in a medium saucepan and gently boil until very tender and all but about 1/4 to 1/2 cup water has evaporated.  Carefully transfer to food processor or high speed blender and add all remaining ingredients except green chilies.  Process for several minutes or until very smooth.  Rinse out saucepan, pour in cauliflower mixture, green chilies and juice, and heat through for a couple minutes over medium or medium-low heat, stirring frequently.  Garnish with bell peppers and cilantro, and serve with chips or spooned over the Mexican dish of your choice.
#vegan #veganrecipes #veganfoodshare #veganfoodporn #plantbased #plantbasedrecipes #plantbasedfoodshare #plantbasedfoodporn #vegansofinstagram #vegansoffacebook #vegansofvirginia #plantbasedcheesedip #vegancheesedip #plantbasedcheesesauce #vegancheesesauce #plantbasedquesoblanco #veganquesoblanco