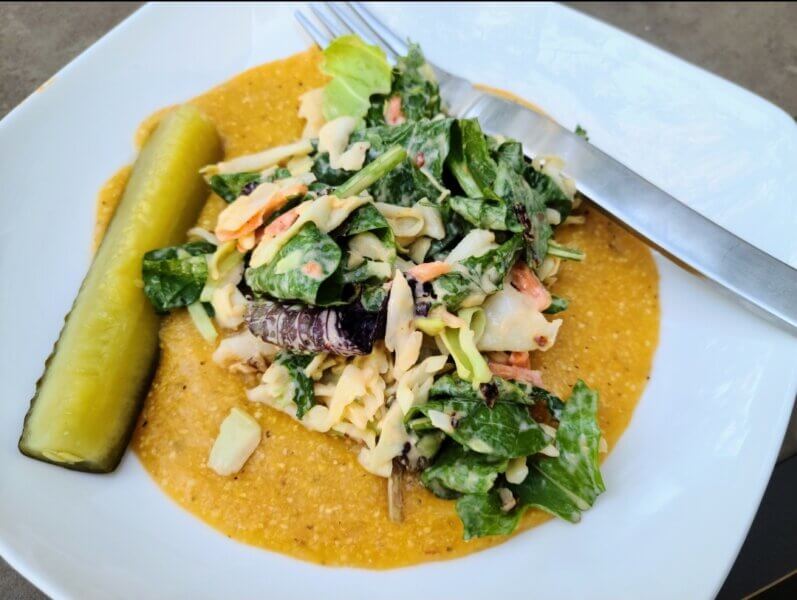 A delicious deck dinner with our dear friend and Aint B to our dogs, Bonnie Mattiko, signals the cusp of summer:
Sichuan Slaw over Stoneground Cheez Grits
I sometimes like a slaw-salad mix that is part shredded cabbage/carrot and part mixed baby greens. The dressing was mayo, artisanal habenero pickle juice (though any sweet or dill juice would be tasty), and hot chili crisp to taste. I purchase the crisp in the Asian foods aisle at Kroger. It is piquant, but not too spicy.
If anyone cares about such things, I found a no- cal mayo that allows me all the delicious dressing I want. Called Walton Farms, I purchase it at Harris Teeter and, while I don't care for it on its own, I really like it jazzed up with assertive flavors such as this.
#vegan #veganrecipes #veganfoodshare #veganfoodporn #plantbased #veganism #plantbasedrecipes #plantbasedfoodshare #plantbasedfoodporn #vegansofinstagram #vegansoffacebook #plantbasedslaw
veganslaw
plantbasedcheesegrits
vegancheesegrits
plantbasedasian
veganasian