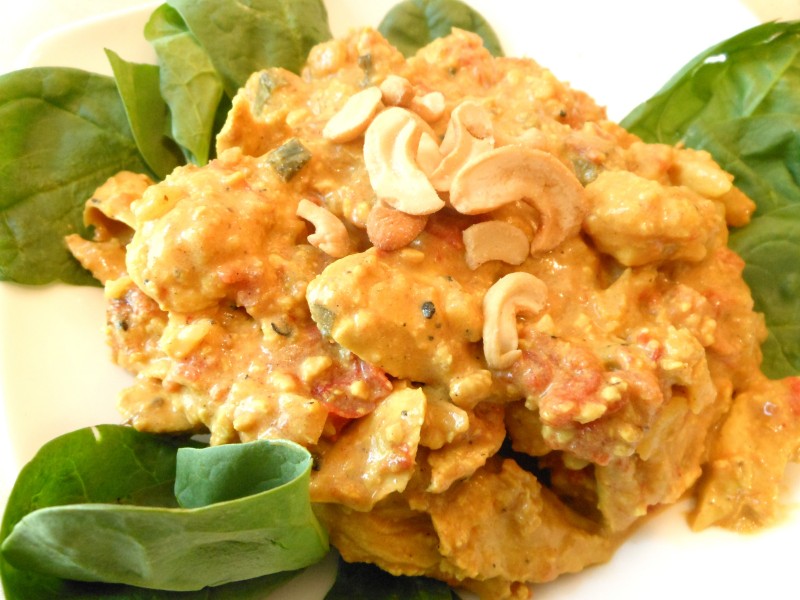 Yield: 6-8 servings
Shame on me…to my knowledge, I have never eaten, much less cooked authentic Brazilian cuisine.  I don't even know why, as I am naturally curious about all cuisines.
However, recently, my beloved cousin and hiking buddy has had to spend a lot of time in Brazil for work.  So, on a recent Sunday morning, when I was flipping the TV channels around and trying to wake up, an episode of Sara Moulton's "Weeknight Meals" caught my attention, as her featured guest was
Leticia Moreinos Schwartz
, a Brazlian chef and cookbook author.  Their theme was
"A Trip to Brazil."
The food they prepared was hardly vegan, but a chicken and shrimp stew called, Xim Xim de Galinha caught my eye;  it  looked mouthwatering and seemed easy to veganize.  It was!  I think it was the ground cashews and peanuts plus the coconut milk that captured my fancy, as I am a sucker for any recipe featuring nuts and coconut milk.  This one held particular appeal because it was different than the Thai and Indian dishes I love to prepare.
If recipe derivation interests you, here are the main alterations that I made to Moreinos Schwartz's recipe (if you could care less, just click
HERE
now!):
 Substituted cauliflower florets for shrimp and thawed Morningstar Farms "Meal Starters" Chick'n Strips for Chicken (seasoned seitan would be a fine substitute).  HOWEVER, so that I didn't have part of a head of cauliflower around, I basically reversed the amount of shrimp and chicken, using only 1/2 pound of faux chicken (that is how it is packaged) and a 3 to 4 pound head of cauliflower (which is an average size head).
I didn't pat the cauliflower dry as the recipe says to do with the chicken, so I ended up needing to cook it 8 minutes (instead of 6) in order for it to brown nicely.
I used lightly salted instead of unsalted nuts (and still added salt).
I don't cook with tomato paste much, so instead of using fresh tomatoes, which aren't in season, and the paste, I just used a can of organic fire roasted diced tomatoes in place of both, which was exactly the 1 1/2 cups called for.
I substituted faux chicken stock for chicken stock.
Because I couldn't find dende oil here (and the shipping cost to mail order a bottle was exorbitant), which supposedly has a fabulously indescribable taste and orange color, I quadrupled the amount of turmeric and paprika (I used smoked paprika) specified in the recipe for a total of 1 teaspoon turmeric and 1/2 teaspoon smoked paprika.
Thanks to Alisa Fleming and Go Dairy Free for publishing my "Vegan Brazilian 'Chicken,' Cauliflower, Peanut, Cashew & Coconut Milk Stew" on her popular website!