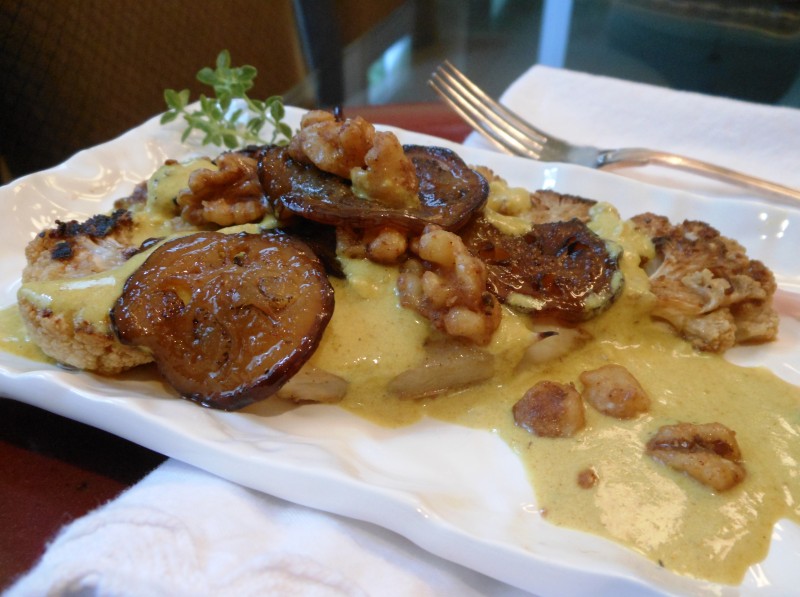 Yield:  4 steaks (with extra sauce and Candied Eggplant)
On Good Friday, Joe and I made the pilgrimage that every self-respecting foodie must make at least once in his or her life…to the fabled Inn at Little Washington in Washington, VA.  Our dinner and our lodging/breakfast experience at the Foster Harris House is recounted in Coastal Virginia Magazine (July 2014).  Suffice it to say that the Inn lives up to its storied reputation.  And the Foster Harris House, which we chose by perusing websites when there was no room at the inn, is also on our "go back" list for both lodging and dining.
After my exquisite 4-course vegan meal, I swore that I would recreate the entree: Cauliflower Steak with Curry Bechamel and Candied Eggplant.  It has taken me this long to get to it, as I wanted to devote my full attention and we are now out of school for the summer.  So, at last, here it is!   Wow!  As elegant as this meal looks and tastes, it is ultra simple to prepare.  Just be sure to make the Candied Eggplant the day before you plan to serve.
It took me two tries to get the steaks and the sauce just right, but the Candied Eggplant, adpated from MarcheDimanche Recipes, were like, well, candy from the get-go.  I used the cooking method for the steaks that restaurant chefs swear by for beef: a sear followed by a few minutes in the oven.  The sauce, made with a roux, is a fairly straightforward preparation, only the first time it was way too sweet.  Combining vegetable stock and unsweetened soymilk with the coconut creamer, and thinning slightly with a very dry Prosecco, did the trick.
Though this version of the sauce is slightly sweet in that coconut milky way, it is a beautiful pairing with the cauliflower and candied eggplant, and is nicely balanced with a side of sauteed bitter greens or, as I prepared it, quick-pickled thinly sliced zucchini and red onion.  For a garnish, you wouldn't think that you would want more sweetness, but slightly spicy candied walnuts are the way to go.  However, you can simply toast the walnuts for a few minutes if you prefer.
While most of us can't visit the Inn at Little Washington even once a year, this beautiful and delicious ode to "The Inn" is simple enough to prepare once a week!
Make the Candied Eggplant the day before you plan to serve.
Candied Eggplant:
2 small eggplants, stemmed (Japanese eggplants work nicely for this as I like their small diameter)
1/4 cup+ olive oil
Sea salt to taste
3 tablespoons rice wine vinegar
1 tablespoon agave nectar or turbinado sugar
2 tablespoons fresh lemon thyme leaves (regular thyme is fine if you can't find lemon thyme, but I grow it because it is so special)
1 teaspoon sea salt
1/8 teaspoon cinnamon
Slice the eggplants into 1/8-inch slices. Working in two batches, heat half the olive oil in a large cast iron skillet placed over medium high.  Add half the eggplant slices, sprinkle very lightly with salt, and cook for about a minute on each side or until they are lightly browned.  Add more oil if necessary to prevent burning or drying out.  Remove to a a non-reactive dish.  I use a 5 x 9″ ceramic bread pan.  Repeat with remaining oil, eggplant, and another pinch of salt.  In a 1-quart saucepan, bring the vinegar, agave nectar or sugar, water, lemon thyme leaves, 1 teaspoon of sea salt, and cinnamon to a boil.  Pour over the eggplant, cool, cover, and refrigerate over night.  Heat in the microwave or in a skillet on the stovetop before serving.
Curry Bechamel Sauce:
1/2 cup vegetable stock [choose one really rich in flavor or use 1 cup water + 1 large (9 g.) bouillon cube (enough to make 2 cups stock so that it is extra concentrated)]
1/2 cup plain coconut creamer (or other plain non-dairy creamer)
1/2 cup unsweetened soy milk
1 medium shallot, peeled and halved
1 large garlic clove, peeled and halved lengthwise
1/16th teaspoon freshly grated nutmeg (barely a pinch)
1 tablespoons vegan butter
2 tablespoosn unbleached all-purpose flour
Optional: 1 1/2 teaspoons nutritional yeast
1 1/4 teaspoons curry powder
Sea salt to taste
Freshly ground black pepper to taste
Optional: up to 2 tablespoons very dry white wine or Prosecco (my favorite)
In a 1-quart saucepan over medium-high heat, warm the vegetable stock, creamer, and unsweetened soymilk with shallot, garlic, and nutmeg to simmering.  Watch closely, as it can boil over quickly, and reduce heat as necessary to maintain a simmer for 10 minutes.  In a large cast iron skillet over medium high, melt butter, whisk in flour, optional nutritional yeast, curry powder and a pinch of salt and pepper, and cook 2 minutes, whisking continually, to make a roux to thicken the sauce.  Reduce heat if necessary.  Remove shallot and garlic pieces from simmering liquid and whisk the liquid into the roux, 1/2 cup at a time.  Simmer, whisking frequently, for about 10 minutes or until thickened and flavors are nicely combined.  Thin, if desired, by whisking in wine a tablespoon at a time.  Check for seasoning and add more salt and pepper if necessary.  Keep warm or reheat to serve.
Cauliflower Steaks:
Note:  Regardless of how large the cauliflower, I have yet to be able to slice more than two nice steaks from a head. I get other large pieces that I can arrange to look like a larger "steak," and that works just fine.  So don't fret if you encounter the same thing.,
1 large head cauliflower, thick stem and leaves removed, cut into four 3/4-inch thick "steaks"
Sea salt
1 tablespoon vegan butter, melted
1 tablespoon olive oil
1 teaspoon sea salt
1/2 teaspoon ground coriander
1/4 teaspoon freshly ground black pepper
Garnish: lemon thyme sprigs and toasted or spicy candied walnuts (just find a recipe to your liking online)
Preheat oven to 425 degrees.  Spray a large cast iron skillet liberally with non-stick cooking spray and heat over medium-high.  Working in two batches, sprinkle cauliflower lightly with sea salt on both sides and sear for 3 to 4 mintues on each side, adding additional spray if necessary.  Remove to an oil baking sheet.  Repeat.  In a small cup, whisk together melted butter and olive oil.  In a second cup, whisk together salt, coriander and pepper.  Brush first side of steaks with half the butter mixture, sprinkle with half the salt mixture, carefully flip, and repeat.  Bake for 10 minutes.   Serve hot with curry sauce and several slices of candied eggplant, garnished with candied or toasted walnuts.