Yield: 4-6 servings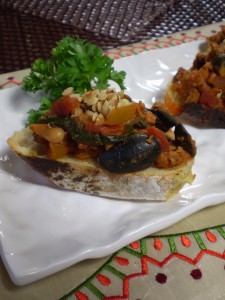 My good friend and dance teacher, Brent Dunn, has been gradually learning the "Vegan-ese Waltz."  Recently, he turned me on to Trader Joe's vegan chorizo.  ¡Delicioso!  It's rich red spicy goodness doesn't cry out for much to become a meal.  But I was obsessed with combining it with the flavor of orange, having been at a party Friday night hosted by my friend who went to college in Spain and was regaling us with a tale of a trip to Valencia.  Here's my spicy Valencian ode (almost as spicy as the story she told!):
1 tablespoon hazelnut or walnut oil (olive oil or canola oil would work fine)
1 medium yellow onion, cut into 1/4-inch dice
pinch kosher salt and freshly ground black pepper
3 large cloves, garlic, minced
1 large yellow bell pepper, cut into 1/4-inch slices and then cut in half
12 ounces vegan chorizo, casing removed
1 teaspoon smoked paprika (be sure it's smoked)
1-15.5 ounce can cannellini beans, rinsed and drained
1/2 cup vegetable stock
1-15 ounce can petite diced tomatoes
4 cups lightly packed fresh baby spinach
1/2 cup cream sherry (contains no cream; refers to a slight sweetness)
Zest of one medium-large naval orange
1/4 cup minced parsley or 1 tablespoon plus 1 teaspoon dried
2 tablespoons plain soy creamer
1/2 to 3/4 cup sliced black olives (choose a meaty variety; brine-cured preferred)
Optional accompaniment: sliced bread, brushed with hazelnut oil (or olive oil) and grilled
Optional garnish: finely chopped hazelnuts
Heat oil to shimmering in a large cast-iron skillet over medium-high heat.  Add onion, and saute, stirring, for one minute.  Season with salt and pepper, and add garlic and continue to saute, stirring, for 2 more minutes.   Add bell pepper, and continue sauteeing for about 3 minutes.  Crumble chorizo into the pan and sprinkle with paprika.  Continue sauteeing for about 2 minutes or until heated through.  Add the beans and do the same.  Add stock, tomatoes and sherry and cook, stirring occasionally, for about 5 minutes.  Stir in spinach just until uniformly wilted, but still bright green.  Stir in zest, parsley and soy creamer and cook, stirring occasionally, until heated through.  Remove from heat, stir in olives, garnish if desired, and serve hot.