Yield: 4-6 servings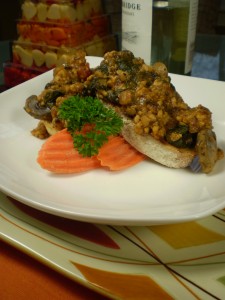 I can't think of a time when we've visited my husband's family in Philadelphia that his mother or big sister, Tina, didn't make Creamed Chipped Beef for breakfast on the Sunday morning of our departure (fondly  known by some as S*** on a Shingle).  I've never partaken of it, of course, usually choosing something like a bagel, soymilk and juice instead.
But a couple of weekends ago, I decided to create a vitamin- and protein-packed dish of a similar texture–if not flavor–to enjoy over the communal toast or hashed brown potatoes.  Joe's family is incredibly solicitous when it comes to my diet, so there was tempeh aplenty, courtesy of Joe's little sister, Terri Ann, and homemade marinara sauce or "gravy" with no meat or cheese, courtesy of Tina.  Since both had gone to some trouble, I wanted to be sure that their efforts weren't wasted.
The recipe that follows is what resulted and it is delicious for a hardy brunch or dinner.  I like it served over grilled ciabatta or something similar, though you could certainly serve it over pasta or polenta.
1 tablespoon olive oil
1 medium yellow onion, cut into 1/4-inch dice
pinch sea salt and freshly ground black pepper
3 large cloves garlic, minced
8 ounces tempeh, any flavor
2 tablespoons steak or grill seasoning (I used steak seasoning with a lot of cardamom seeds and ground it in my spice grinder)
1 teaspoon dried basil
1 teaspoon dried marjoram
1 teaspoon dried oregano
8 ounces fresh mushrooms, sliced 1/4-inch thick
12 ounces lite beer or non-alcoholic beer (see note below)
1 cup homemade or prepared marinara sauce
1 tablespoon Bragg's Liquid Aminos
1 teaspoon brown rice syrup or agave nectar
8 cups lightly packed baby spinach (no need to stem or chop)
1/4 cup + 2 tablespoons soy creamer
2 tablespoons whole wheat flour
Heat oil to shimmering in a large cast-iron skillet over medium-high heat.  Add onion, and saute, stirring, for one minute.  Season with salt and pepper, and add garlic and continue to saute, stirring, for 2 more minutes.   Crumble tempeh into the pan and sprinkle with steak or grill seasoning, basil, marjoram, and oregano.  Continue sauteeing for about 5 minutes or until tempeh just barely starts to brown.  Add the mushrooms and saute, stirring frequently, until they release their moisture and it begins to evaporate, about 3 minutes.  Add the beer and cook, stirring occasionally for about 3 minutes.  Add the marinara sauce, Liquid Aminos, and brown rice syrup, and continue to cook, stirring occasionally, for about 5 more minutes.  Stir in spinach just until uniformly wilted, but still bright green.  Stir in 1/4 cup soy creamer and cook, stirring occasionally, until heated through.  Whisk together flour and remaining 2 tablespoons of soy creamer to make a paste, and stir into the tempeh mixture.  Cook for about 2 minutes, stirring frequently, just to make sure that the flour no longer tastes raw.  Serve hot over grilled ciabatta, pasta or polenta.
Note:  According to Ali Tadayon in "Beware the Beer: Is Yours Vegan," found in the Vegan Mainstream e-newsletter, not all beer is vegan, as it may include albium (derived from animal blood), isinglass (derived from the swim bladders of fish), gelatin, charcoal, pepsin, lactose, and even insects.  She recommends the following vegan-approved beers: Amstel, Corona, Heineken, New Belgium Brewery, Pabst Brewing, Sierra Nevada Brewing Company, and Tecate over these non-vegan ones:  Castle Rock Brewery, Guinness, Newcastle Brown Ale, and Red Stripe.