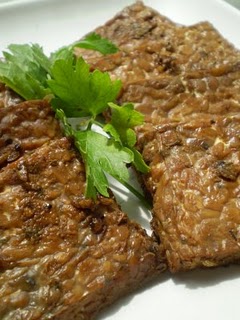 Yield: 4 servings (2 steaks or patties per serving)
Created for my Vegan Snap Bean "Stew" with Vegan Double Corn Finger and Faux Ham Stacks, these ham steaks are great for virtually any application calling for sliced ham. With the addition of fennel seed, they take on the flavor profile of sausage and are perfect in Sausage Biscuits or in any other preparation calling for sausage patties. You could even try crumbling it.
1 cup water
2 tablespoon soy sauce or tamari
1 teaspoon Amino Acids or vegan Worcestershire sauce
1/2 teaspoon Liquid Smoke
1 tablespoon nutritional yeast
1 teaspoon brown rice syrup (or maple syrup)
1/2 teaspoon onion powder
1/2 teaspoon garlic powder (you may substitute garlic salt; just omit sea or kosher salt)
1/2 teaspoon sea or kosher salt
1/4 teaspoon freshly ground black pepper
1/4 teaspoon dried oregano
1/4 teaspoon ground dry mustard
Sausage Patties only: 1/4 teaspoon fennel seeds
1/8 teaspoon dried sage
8 ounces tempeh, sliced crosswise into 4 pieces
Combine all ingredients except tempeh in a large skillet and bring to a simmer over medium-high heat. While stock heats, stand each piece of tempeh on one of its long sides and, with a sharp knife, carefully slice it in half through the middle to make two thinner pieces. Place the 8 pieces of tempeh into the stock and simmer for 12-15 minutes or until almost all of the moisture is evaporated, being careful not to let it scorch. Add a little bit more water, if needed, to prevent stock from evaporating too quickly.
Stock Source: Stock is adapted from La Dolce Vegan! by Sarah Kramer