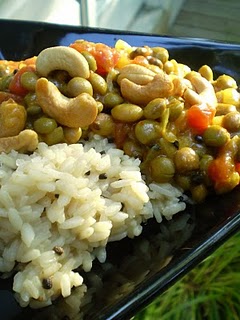 Yield: 4 servings
A recipe in a culinary magazine inspired this fragrant, tasty and beautiful dish, perfect for when fresh produce is not at its peak. After reading the recipe I cut it out, but misplaced it. So I didn't have the option of consulting it while cooking. However, I'm pretty sure there were not tomatoes in the original, but I had a leftover cup and I'm always in search of ways to add color and nutrition to the food I enjoy. As for all the rest, I seem to recall that coriander and cumin were among the spices used. But I can't even remember if it called for coconut milk. Regardless, I love my version and hope you will too.
1 tablespoon canola oil
1 tablespoon coriander seeds (or, in a pinch, 1 teaspoon of ground coriander)
1 tablespoon cumin seeds (or, in a pinch, 1 teaspoon of ground cumin)
1 small chili pepper, seeds and membrane removed, very finely chopped (or 1/8-1/4 teaspoon red pepper flakes–NOT chili powder)
1 yellow onion, finely chopped
2 large cloves garlic, sliced or minced
1/2 teaspoon turmeric
1 cup petite diced tomatoes in juice
1 can coconut milk (not Cream of Coconut; I use "lite")
1 can pigeon peas, drained (rinse and then drain if desired)
1-2 teaspoons vegan butter (I like Earth Balance)
coarse sea or kosher salt, if needed (go easy on additional salt)
Fragrant Vegan Rice (see recipe below)
Garnish: cashew halves and pieces and/or finely chopped fresh cilantro
In a large skillet over medium-high, heat oil until shimmering. Add corriander and cumin seeds and stir fry just until fragrant, about 30 seconds. Add chili pepper, onion and garlic and saute until softened. Stir in turmeric until completely distributed. (Note: if using the ground spices, add after onion has softened slightly.) Stir in tomatoes and coconut milk and cook, stirring occasionally, until reduced by 1/3-1/2 and thickened. Stir in peas and heat through. Stir in vegan butter just before serving. Check for salt and add only if needed. Serve over Fragrant Vegan Rice garnished with cashews and/or cilantro.
Fragrant Vegan Rice
2 cups water
coarse sea or kosher salt
1 stick cinnamon, broken in half
1 teaspoon cardamom seeds (you may use pods, but I like the seeds for a change, as they disperse throughout the rice)
2/3 cup basmati rice
In a large saucepan, bring first 4 ingredients to a boil, stir in in rice, reduce heat to a simmer, cover and cook for 15-10 minutes or until rice is tender and all water is absorbed/evaporated. Check periodically to make sure that rice isn't sticking but, otherwise, leave undisturbed.