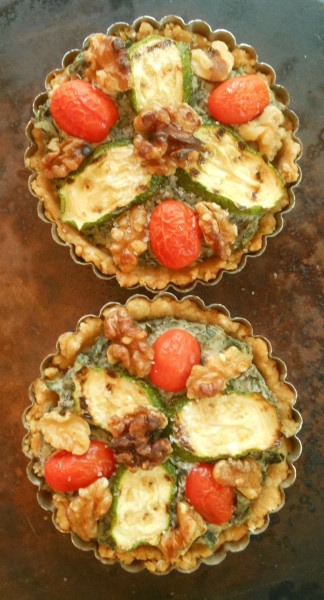 Yield: 6-5 inch tarts
A recipe in a summer issue of one of my culinary magazines for a quiche featuring zucchini, tomatoes and walnuts inspired this dish.  However, I had a bunch of local Swiss chard from our farmer's market that needed used, so I finely chopped it and folded it into my vegan quiche batter.  This is summer satisfaction at its best and brightest!
And it has been so popular, I thought it would be nice to contribute to the Virtual Vegan Linky Potluck 3, an ingenious idea by An Unrefined Vegan.
6-5 inch blind-baked tart shells (recipe for Press-In Pie Crust  follows)
1 bunch Swiss chard, stemmed, and very finely chopped (I used a food processor for this task)
14 ounces extra-firm tofu (not Silken)
1/4 cup unsweetened soymilk or any unsweetened non-dairy milk
2 tablespoons nutritional yeast
1/2 teaspoon garlic powder
1/4 teaspoon onion powder
1 teaspoon sea salt
Freshly ground black pepper to taste
Zest of 1 small to medium lemon
1-2 tablespoons finely chopped basil or chiffonade (leaves stack, rolled, and thinly sliced)
18-1/4 inch thick zucchini slices, cooked (approximately 1 medium zucchini; I like to grill them in an indoor gill pan; but you can saute, broil or steam)
9 cherry tomatoes, halved lengthwise
6 walnut halves and approximately 36 walnut pieces (but you don't have to be that exacting)
Approximately 1 tablespoon olive oil, 1 tablespoon balsamic vinegar, and 3/4 teaspoon coarse sea salt divided among the 6 tarts
Preheat oven to 400 degrees.  Note:  if you make your own crusts, which I highly recommend–my recipe is quick and easy–just leave the oven set to 400 degrees.  Proceed with recipe while shells bake.  Place Swiss chard in a large bowl.  Rinse and dry food processor bowl and puree together until smooth tofu, soymilk, nutritional yeast, garlic powder, onion powder, teaspoon of salt, and black pepper to taste.  Spoon mixture over Swiss chard, add lemon zest, and fold together until completely combined.  Divide filling evenly among tart shells.  On top of each, arrange 3 slices of zucchini, 3 cherry tomato halves, and 6 walnut pieces in a pinwheel design and place 1 walnut in the center.  Bake for 15 minutes.  Remove from oven, allow to cool just enough to remove tarts from pans, place tarts on serving plates, and drizzle each tart with 1/2 teaspoon olive oil, 1/2 teaspoon balsamic vinegar, and 1/8 teaspoon coarse see salt.  Serve warm.
Press-In Pie Crust
2 1/4 cups unbleached all-purpose flour (I use white whole wheat, but you can also combine half all-purpose with half whole wheat)
2 teaspoons turbinado sugar (any granulated sugar is fine)
1 1/2 teaspoons sea salt
3/4 cup canola oil (or any neutral-tasting vegetable oil)
3 tablespoons unsweetened soymilk or anyunsweetened non-dairy milk
Preheat oven to 400 degrees.  Place tart pans with removeable sides on a rimmed baking sheet.  Combine dry ingredients in a medium bowl.  Make a well in the center, pour in wet ingredients, and stir with a fork just until a nice, moist dough forms.  Divide into sixths and pat evenly into tart pans.  Prick a few times with a fork and bake for 10-12 minutes or until lightly golden brown.  Remove from oven.