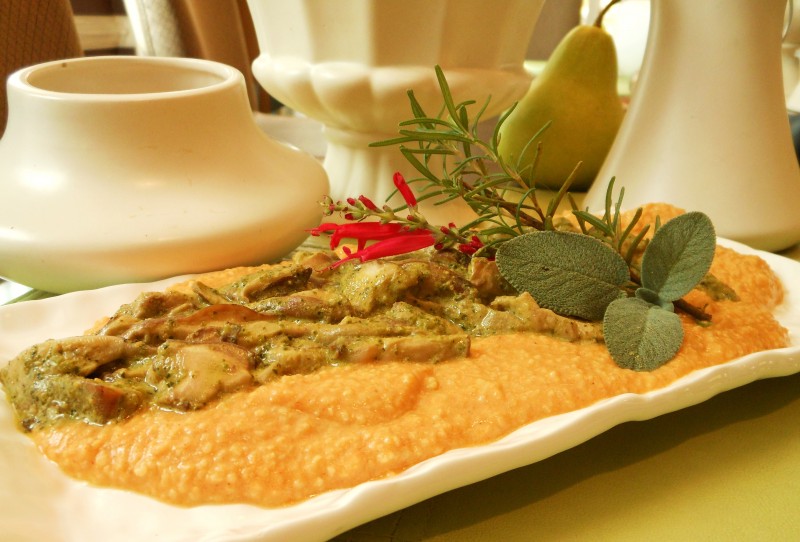 Yield: 4 servings
Simple as it is, my Smokey Pumpkin Grits with Shitake Mushrooms in a Kale Pesto Cream Sauce is one of the tastiest and most satisfying dishes you will ever eat.  Perfect for a fall or winter dinner or brunch, it is both rustic and refined.  The smoked paprika in the grits and the smoked almonds in the pesto are a perfect pairing.  Add to that the smokey notes of Chardonnay, and you have a tasty trinity indeed.  Visually, it is also appealing with the warm, golden-toned grits setting off the creamy green-flecked mushrooms to delicious advantage.  I hope you'll enjoy this dish many times this fall.  Note:  the pesto recipe makes far more than you will need for one recipe of the mushrooms.
Vegan Smokey Pumpkin Grits (click on the title to go to my recipe on One Green Planet)
While grits cook, prepare mushrooms:
Shitake Mushrooms in Kale Pesto and White Wine Cream Sauce:
2 tablespoons olive oil
10 ounces Shitake mushrooms, stems removed, and caps cut into 1/3 inch slices (just somewhere between a 1/4 and 1/2-inch; feel free to substitute other mushrooms if desired, but Shitakes are particularly tasty and toothsome in this dish)
Pinch sea salt
1/4 cup coconut milk or soymilk creamer
1/4 cup Smokey Kale Pesto (recipe follows)
1/2 cup dry white wine (a Chardonnay is nice for its smokey notes, but use what you have)
In a large cast iron skillet over medium-high, heat olive oil to shimmering.  Add mushrooms and a pinch of sea salt and saute, stirring frequently and lowering the heat if necessary, for about 3 minutes or until mushrooms are softened.  Add cream and saute, stirring, for 3o seconds.  Then add the pesto and do the same.  Add white wine and cook, stirring, for a final minute or until sauce comes together and reduces down to the desired consistency.  Serve mushrooms immediately over hot grits (perhaps with a kale salad).  Garnish as desired.  (In the photo, I used fresh springs of rosemary, sage, and pineapple sage for its beautiful red colored blooms.)
Smokey Kale Pesto:
8 ounces trimmed kale (that's one bunch with stems removed from our market)
1 cup smoked almonds
4 large garlic cloves
1 teaspoon powdered thyme (or 1 tablespoon fresh thyme leaves)
1/4 teaspoon red pepper flakes
1 1/2 teaspoons sea salt or to taste
1/4 teaspoon freshly ground black pepper
1 1/4 cups olive oil
1/4 cup fresh lemon juice
In the bowl of a food processor, process kale in two batches until very finely chopped, returning all kale to the food processor before continuing.  Add remaining ingredients except olive oil and lemon juice and pulse until nuts are very finely chopped and ingredients are well combined.  Then, turn processor on, and slowly drizzle in olive oil and lemon juice until the mixture comes together.  Check for seasoning and adjust if necessary.  Store leftovers in an airtight container in the refrigerator.  Or, freeze in ice cube trays and then remove and store in zip-lock bags.