Yield: 6 stuffed peppers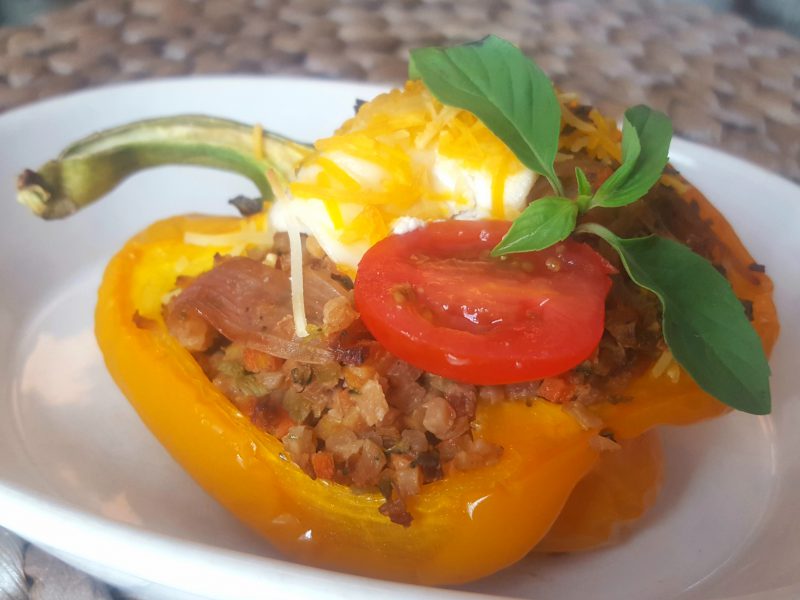 I'm not sure what I did before the "invention" of riced vegetables, but I know I didn't eat as creatively when it came to low-calorie meals.  I am rather hooked on the riced cauliflower, riced broccoli, and riced "confetti" (usually cauliflower, broccoli, and carrots), so expect lots of new recipes this summer, in addition to those posted recently.
I think these peppers, with their teaspoon of ground cumin, are perfectly spiced.  But if you prefer to add some coriander, chili powder, and the like, by all means go for it.
Either way, you are sure to return to this easy recipe again and again.
3 large yellow, orange, or red bell peppers, halved lengthwise, and broiled a few minutes, skin-side up, until out skin chars in a few places (I try to slice through the stem with a serrated knife so that each pepper has a cute stem and nice contrast of green)
1 teaspoon olive oil
1/2 large yellow onion, diced
1 large clove garlic, minced (I use a garlic press)
1 pound riced "confetti" cauliflower, broccoli, and carrots (you can rice your own in a food processor, pulsing until vegetables have the fine texture of rice)
1/2 cup water
2 tablespoons vegan cream cheese (I use Tofutti)
2 tablespoons vegan sour cream (I use Tofutti)
2 tablespoons prepared salsa (not pico de gallo)
1 teaspoon ground cumin
2 tablespoons sour cream
Sea salt and freshly ground pepper to taste
2 tablespoons grated vegan cheese (I use So Delicious)
Garnishes: 3 cherry tomatoes, halved, and 6 sprigs fresh basil or cilantro
Preheat oven to 350 degrees.  In a large skillet over medium, heat 1 teaspoon olive oil.  Add onion and saute, stirring, until softened.  Add garlic and saute, stirring, for 30 seconds.  Add riced vegetables and water and cook, stirring occasionally, for about 10 minutes or until vegetables soften and turn translucent and most all of moisture is evaporated.  Stir in cream cheese, sour cream, and salsa, heating and stirring until cream cheese and sour cream melt.  Season to taste with salt and pepper.  Divide evenly among pepper halves in an oiled casserole dish or individual gratin dishes. Top each with 1 teaspoon sour cream and 1 teaspoon grated cheese.  Bake for about 20 minutes or until heated through.  Served garnished with a cherry tomato half and a sprig of basil or cilantro.