Yield: 4-6 servings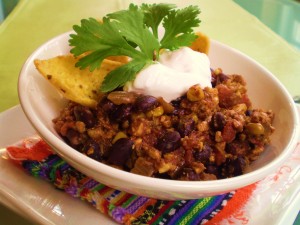 If you live in a part of the world where temperatures have dipped–or never rose to begin with–this ultra-simple, ultra-satisfying chili will warm you from the inside out.  However, if you live in warmer climes, a bowl of this spicy soup  just might get a little perspiration going and cool you down–nature's own air conditioning.
The most difficult part of making this dish is waiting while the chili simmers for 25 minutes  to allow the flavors to marry.
1 tablespoon vegetable oil
1 medium yellow onion, but into 1/4-inch dice
2 large cloves garlic, chopped
8 ounces tempeh
sea salt and pepper to taste
1 teaspoon ground cumin
1 teaspoon ground oregano
1 teaspoon chili powder
1/4 teaspoon cinnamon
1/4 teaspoon smoked, sweet or spicy paprika
1/4 teaspoon chipotle chili powder
1-15 ounce can petite diced tomatoes in juice
12 ounces light beer or non-alcoholic beer (see note below)
1 tablespoon miso paste (any kind)
1 tablespoon brown rice syrup or agave nectar
(Note: you may substitute 2 tablespoons of tomato paste for the miso paste and the brown rice syrup.)
1 tablespoon unsweetened cocoa powder
1 cup frozen corn
1-15.5 ounce can black beans, rinsed and drained
Optional: 2 tablespoons nutritional yeast
Optional garnishes: dollops of my Vegan Cheddar "Cheese," dollops of vegan sour cream, and cilantro sprigs
Optional accompaniment: Frito Scoops for "Frito Chili Pie"
Heat oil to shimmering in a large cast iron skillet over medium-high heat.  Add onion, garlic, and a pinch of salt, and saute, stirring frequently, for 3 minutes.  Crumble tempeh into the pa, add all spices and saute, stirring frequently, for 5 minutes or just until tempeh starts to brown.  Add all remaining ingredients and cook, stirring occasionally, for about 25 minutes or until all flavors have married.  Serve hot garnished as desired.
Note:  According to Ali Tadayon in "Beware the Beer: Is Yours Vegan," found in the Vegan Mainstream e-newsletter, not all beer is vegan, as it may include albium (derived from animal blood), isinglass (derived from the swim bladders of fish), gelatin, charcoal, pepsin, lactose, and even insects.  She recommends the following vegan-approved beers: Amstel, Corona, Heineken, New Belgium Brewery, Pabst Brewing, Sierra Nevada Brewing Company, and Tecate over these non-vegan ones:  Castle Rock Brewery, Guinness, Newcastle Brown Ale, and Red Stripe.