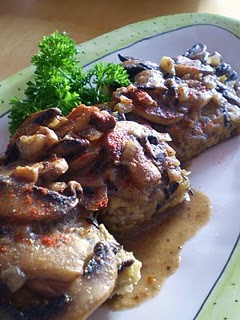 Yield: 4 servings (or 8 with a hearty side and/or salad)
This is from my "higher protein" series of recipes, great for weeknights, but special enough for company. The sauce is creamy, tangy, delicious and satisfying–a perfect foil for the crisp-coated tempeh–but it doesn't contain greens, so be sure to serve a side or salad of something dark and leafy.
1/3 cup all-purpose flour (you can use whole wheat for a nuttier coating)
pinch coarse sea or kosher salt
pinch freshly ground black pepper
pinch garlic powder
pinch onion powder
1 teaspoon dried thyme
2-8 ounce packages tempeh, each "slab," cut into 4 equal pieces (I used the kind with wild rice because rice and mushrooms are so good together, but use whatever protein–including seitan or tofu–that you like
1 + 1 tablespoons vegan butter (I like Earth Balance)
2 + 1 tablespoons olive oil
2 shallots, finely chopped
8 ounces sliced white mushrooms
2 tablespoons Dijon mustard
3/4 cup white wine or sherry
3/4 cup plain soy creamer
Garnish: paprika and parsley, minced or left as sprigs
Preheat oven to warm. Whisk together first 6 ingredients in a shallow bowl and dredge tempeh in the mixture. Meanwhile, in a large cast iron skillet over medium-high, heat 1 tablespoon vegan butter and 2 tablespoons olive oil to shimmering. Saute tempeh for 2-3 minutes or until golden brown on each side. Remove to a serving platter or individual plates and keep warm in the oven. Add remaining tablespoon of vegan butter and olive oil in skillet and, again, heat until shimmering. Add shallot and mushrooms and saute 2-3 minutes or until both begin to soften, stirring occasionally and scraping up browned flour from the bottom. Add mustard and whisk in until smooth. Do the same with the wine, followed by the creamer. Simmer, stirring occasionally, for 6-8 minutes or until sauce is reduced by about half. Turn off heat and ladle sauce over tempeh. Garnish with a sprinkling of paprika and a little parsley. Serve immediately.
Source: Unknown (this is an old chicken recipe in my files from many many years ago before I was vegetarian that I have since veganized)