Yield: 4 servings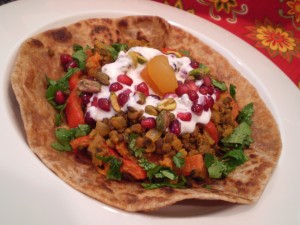 I love playful twists on fusion cuisine, especially when the result is a fun to eat, like  a tostato.  In this case, I combine my love of Mexican and Southwestern food with the seemingly more exotic flavors of Tunisia.
The finished dish is beautiful, healthful and a little surprising.  But it works, probably because cumin and coriander are spices common to both cuisines.  Plus, the lentils function similarly to pinto or black beans on a tostato:  a creamy-chewy counterpoint to the crisp tortilla.  By itself, the lentil mixture is mouth-watering, but it is transformed into something extraordinary when crowned with a drizzle of the silky Lemon-Chile Cream.
These are irresistible bejeweled with ruby-red pomegranate seeds and crunchy green pistachios, encircled with fresh chopped cilantro, and crowned with a plump dried apricot.
Vegan Lemon-Chili Cream
1/4 cup vegan sour cream
juice of 1/2 of a lemon
dried chili flakes to taste
pinch of sea salt to taste
In a small cup or bowl, whisk together all ingredients.  Set aside.
Vegan Tunisian Tostatos
canola oil
4-6 to 8-inch whole wheat tortillas
1 tablespoon olive oil
1 medium, yellow onion, cut into 1/4-inch dice
2 large garlic cloves, sliced
1 large red bell pepper, stem, membrane and seeds removed, cut in half crosswise and then into 1/4-inch strips
sea salt to taste
12 dried apricots, chopped
8 sundried tomatoes in oil, drained and chopped
3 tablespoons hummus
1 tablespoon tahini
2-4 tablespoons water
juice of 1/2 of a lemon
1 teaspoon ground cumin
1 teaspoon smoked paprika
1/2 teaspoon ground coriander
1/2 teaspoon fresh grated ginger
1/4 teaspoon turmeric
2 tablespoons chopped cilantro
2 1/2 cups steamed lentils (should be firm enough to hold their shape)
Garnish: 4 tablespoons chopped cilantro, 4 dried apricots, pomegranate seeds, chopped pistachios
Preheat the oven to warm.  Line a baking sheet with paper towels.  In a large cast iron skillet, heat a thin layer of oil to shimmering over medium-high heat. Fry tortillas, one at a time, for a minute or two on each side or until lightly browned and crisp, adding more oil as necessary.  Remove each on to the prepared baking sheet and keep them warm in the oven.
To make the lentil mixture: whisk together hummus, tahini, water, lemon juice and all spices until well combined.  Set aside.  Heat olive oil to shimmering in a large cast iron skillet over medium-high heat.  Add onion, garlic, bell pepper, and a pinch of salt, and saute, stirring almost continuously, for 3 minutes.  Add the apricots and sundried tomatoes and saute, still stirring, for 2 more minutes.  Add hummus mixture, cilantro and lentils, and cook, stirring continuously, until well combined and heated though.
To serve, place each tortilla on a serving plate, mound with 1/4 of the lentil mixture, sprinkle 1 tablespoon of chopped cilantro around the perimeter, spoon 1/4 of the Lemon-Chili Cream over the lentil mixture, and garnish with a dried apricot, a few pomegranate seeds and some chopped pistachios.