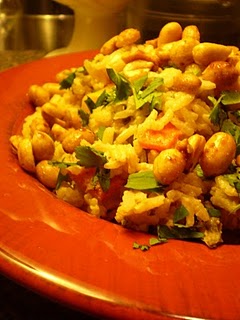 Yield: approximately 4 servings
After a beautiful family-style pan-Asian meal at China Grill–much of which I couldn't eat– over New Year's weekend in South Beach, I was craving foods inspired by their creations, especially something with their spiced cashews that I picked off of their version of a Caesar salad. Here's what I came up with and I have found it so satisfying as leftovers all week. Measurements of vegetables are approximate. Use what you have and it will still be wonderful.
Vegetable-Coconut Milk Rice Pilaf:
1 generous tablespoon vegetable oil (you may mix in a little sesame oil)
1 cup sliced green onions
1/2 cup baby carrots, halved lengthwise
1/2 of a yellow or red bell pepper, stem and seeds removed, thinly sliced
1/2 cup sliced mushrooms (shitakes are especially good)
2 cups vegetable stock
1 can (about 1 1/2 cups) coconut milk (I used the "lite" variety)
1 cup Jasmine rice (I recommend not substitute because the fragrance can't be duplicated)
1 cup of trimmed broccoli florets
optional: coarse kosher or sea salt
Garnish: chopped fresh cilantro and spiced cashews or peanuts (see recipe below)
In a wok or large saute pan over medium-high, heat oil to shimmering. Add green onions and stir fry for a minute to flavor oil. Add baby carrots and stir fry for another minute, followed by bell pepper and mushrooms, stir frying for a minute after each addition. Stir in vegetable stock, coconut milk and rice. Cover (use foil if you don't have a lid to fit your wok) and cook for about 15 minutes, stirring occasionally to insure that rice isn't sticking. Lower heat if necessary. Stir in broccoli, cover, and cook for an additional 5 minutes or until rice is tender, most of moisture is absorbed and broccoli is tender but still bright green. Check for salt and add if necessary. Garnish with cilantro and spiced nuts. Serve warm.
Vegan Five Spice and Lime Roasted Cashews or Peanuts:
1 tablespoon olive oil
juice and zest of 1/2 of a lime
1-2 tablespoons brown sugar (start with smaller amount and add more if desired)
1/2 teaspoon coarse sea or kosher salt
1/4 teaspoon (or to taste) five spice powder
1/8 teaspoon (or to taste) cayenne pepper
12 ounces lightly salted cashew halves and pieces or peanuts (reserve can)
Line a baking sheet with a brown paper bag, waxed paper or parchment paper. In a wok or large saucepan over medium high, heat olive oil to shimmering. Meanwhile, combine all remaining ingredients except peanuts. Stir into hot oil, being careful not to splatter, followed immediately by peanuts. Roast and stir for about 7 minutes, lowering heat if necessary, or until exterior is caramelized and peanuts taste slightly roasted. Avoid scorching or you will have to throw out the whole batch. Pour immediately onto prepared baking sheet to cool completely. Store in the reserved peanut can.