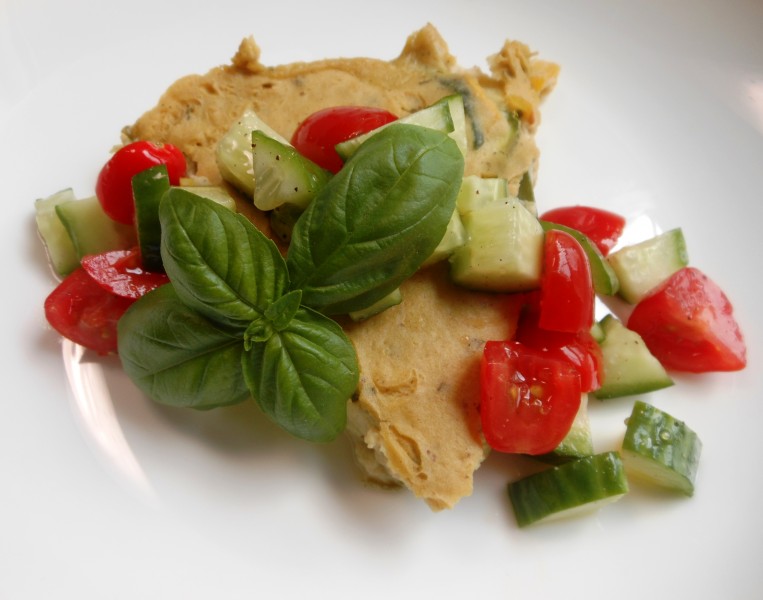 Yield: 4 main dish servings (2 slices each, as they are so light) or 8 side dish servings
Last Tuesday, realizing that I was leaving town in a couple of days (for my annual summer day hiking trip with my cousin Earl) and that I had a big beautiful zucchini and yellow squash from the farmer's market in the fridge, I realized I needed to create something that would showcase them for lunch for the next couple of days.
Whatever it was, I wanted it to be light with a chilled component.  With just about a cup of tofu in the fridge, the idea of a salad-topped torta struck and I set about seeing what I could come up with.
The result was a well-behaved  one-dish meal that is as addicting as it is nutritious and low calorie.  In fact, this dish is so light, who cares if you wipe out the whole torta in one setting?  Okay, well maybe half.  I confess to devouring three slices for lunch both days.
1 tablespoon olive oil
1-8 inch zucchini (about 2″ in diameter at widest section), very thinly sliced
1-8 inch yellow squash (about 2″ in diameter at widest section), very thinly sliced
Sea salt
Freshly ground black pepper
2 large cloves garlic, minced
7 to 8 ounces extra firm regular tofu (half of a 14 to 16 ounce box, however your favorite brand is sold)
1 cup milk
2 tablespoons flour
1 tablespoon cornstarch
1 tablespoon nutritional yeast
1 teaspoon Dijon mustard
1 teaspoon Liquid Aminos or soy sauce
1/8 teaspoon freshly ground nutmeg (nothing beats freshly ground!)
8 to 12 fresh basil leaves
Tomato Cucumber Salad (recipe follows)
Garnish: sprigs of fresh basil
Preheat oven to 350 degrees.  In a large cast iron skillet, heat olive oil over medium-high.  Add zucchini and yellow squash slices and a pinch of sea salt and pepper.  Saute, stirring frequently, for 2 to 3 minutes or until squash begins to soften.  Add 1 clove of minced garlic and saute, stirring frequently, for another 2 to 3 minutes or until squash is perfectly tender and most of moisture is absorbed/evaporated.  Remove from heat and lightly smooth the top to create a flat surface.  In a food processor, blend all remaining ingredients, except basil, including remaining clove of garlic, 1/4 teaspoon sea salt, and 1/8 teaspoon black pepper.  Add basil leaves and pulse just to chop and distribute.  Pour mixture over cooked squashes, sealing to edges.  Bake in center of oven for about 35 minutes or until set and lightly browned on top.  Cool about 15 minutes or until just warm for best flavor, texture, and easy removal from the pan.  Serve topped with Tomato Cucumber Salad and garnished with fresh basil sprigs.
Tomato Cucumber Salad
1 cup diced cucumber
1 cup quartered cherry or grape tomatoes
2 teaspoons mild vinegar like cider or malt
Pinch Sea salt and freshly ground black pepper
In a small bowl, gently combine all ingredients.  Check for seasoning and adjust to taste.