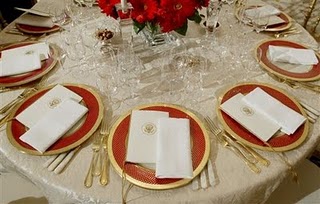 Okay, so it wasn't a vegan menu, but it was vegetarian. When the Obamas hosted their first official state dinner last night for the prime minister of India, Manmohan Singh, health and vegetarian fare was gloriously forefront in their minds and on their plates.
Roasted potato dumplings with tomato chutney and smoked collard greens sounded particularly tantilizing. Check it all out here:
Photo Credit: I found the accompanying photo on The Huffington Post, but there was no photo credit listed.