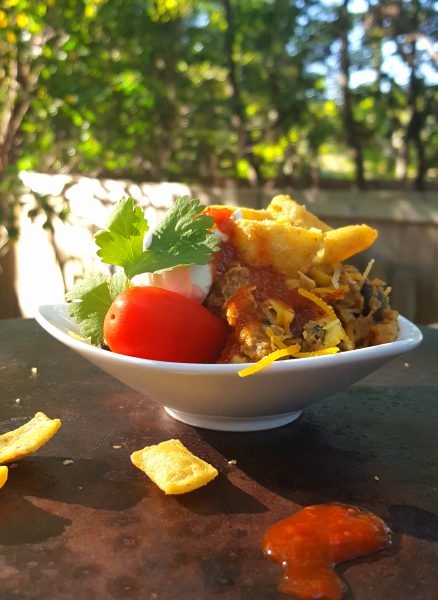 Yield: 6 to 8 servings
There is really not much that needs to be said about this addicting dish, which is even good at room temperature.  I am so busy at school that I don't have time to leave my classroom to heat my lunch, and this casserole is still a new favorite.  Here's a tip:  life is too short to wrestle with a butternut squash, so my recommendation is to splurge and purchase pre-cut chunks of the squash.  On the other hand, every family budget is different, so do what makes sense.  I am frugal about MANY things; cutting up a butternut squash is not one of them.
1 tablespoon olive oil
1 medium onion, diced
2 large coves garlic, minced
1/2 cup water or vegetable broth
16 ounces soy crumbles or diced chicken flavored seitan (or 8 ounces faux meat plus 8 ounces cooked rice)
1/2 cup (4 ounces) vegan cream cheese
1 1/2 cups shredded vegan cheddar or cheddar-jack blend
1 package taco seasoning or 1 tablespoon ground cumin, 2 teaspoons smoked paprika or chili powder, and 1 teaspoon dried oregano
2 cups roasted butternut squash chunks (spray 1-inch chunks with non-stick spray and roast at 450 degrees for 10 minutes on each side)
1 can black beans, rinsed and drained
1-15.5 ounce can corn, drained
1/2-15.5 ounce can pureed pumpkin
Topping:
2 cups or so small Fritos
1/2 cup shredded vegan cheddar or cheddar-jack blend
Preheat oven to 350 degrees.  Heat olive oil in a cast iron skillet over medium heat.  Add onion and sautee until tender. Add garlic and saute for another minute, adding up to 1/2 cup water if mixture gets too dry. Add soy crumbles and saute until lightly browned. (If using seitan, stir in with beans and corn.) Stir in cheeses, heat until melted, and then stir in all remaining ingredients, combining well. Spoon mixture into an oiled casserole dish, top with Fritos, sprinkle with 1/2 cup cheese, and bake for 20 to 30 minutes or until heated through and top is lightly browned. Serve immediately.
Note: Reheat any leftovers in the oven to maintain crunchiness of topping.  You may freeze the recipe before topping. When ready to bake, simply add the topping and bake as directed.