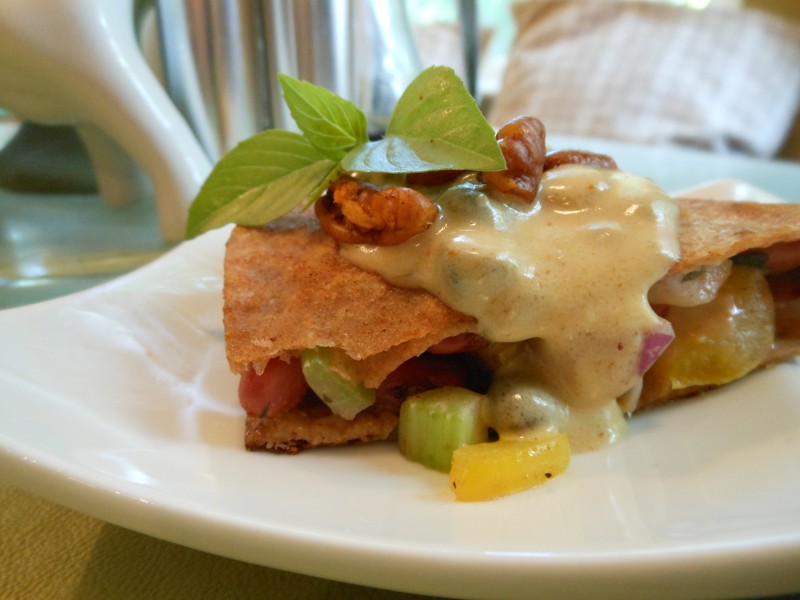 [Photo Note:  Yea!  As promised I purchased a new camera yesterday, and  I'm enjoying familiarizing myself with my brand new Nikon CoolPix S6200.  At right  is the first photo I took with it…what do you think?  I love the white balance feature for starters.  So crisp and clean…not blue or yellow.]
I may have mentioned that I was weened on the New Orleans French Quarter.  My parents honeymooned in NOLA, as did my husband and me.  In between, my folks took my sister and me as often as possible for long weekends when we were growing up.  In more recent years, we have enjoyed spending several days there just before Christmas, one of the most temperate times of year in the Quarter.  Food has always been one of the biggest draws.
Last week I was with my parents at Ochsner's Hospital for some surgery my father needed.  The hospital is in Metairie, a few minutes from the Quarter, so I didn't make it there.  But the hospital overlooks the Mississippi River where I walked on the bike/jogging path along the levy.  Since most of my meals at the hospital consisted of hummus, salads, and/or Boca burgers, I came home craving a taste of one of my favorite places on earth.  In response, I created this dish.
This recipe combines my love of Cajun/Creole cuisine with that of my native Texas in the form of a crunchy quesadilla.
Laissez les bons temps rouler!
Remoulade Sauce:
1/4 cup vegan mayo
2 teaspoons catchup
1 teaspoon Dijon or just plain yellow mustard
1-2 tablespoons roughly chopped drained capers (I love capers, but they can quickly overwhelm; so make sauce ahead with just 1 tablespoon, taste when you're ready to serve, and add another tablespoon if desired)
In a small bowl or cup, completely combine all ingredients, cover, and chill until ready to serve.
Praline Pecans:
1 tablespoon vegan butter
1 cup pecan pieces
1/2 teaspoon ground paprika or to taste
Sea salt to taste
1 tablespoon natural sugar dissolved in 1 tablespoon warm water
optional: 1 tablespoon nutritional yeast
In a large skillet over medium-high heat, melt vegan butter.  Add paprika and salt, and stir constantly for a minute or two.  Add dissolved sugar and toast, stirring for another couple of minutes or just one minute if including nutritional yeast.  If incorporating the nutritional yeast, add and continue toasting and stirring for another minute or until pecans are lightly toasted.  Reduce heat if necessary to prevent overcooking pecans.
Quesadilla Filling:
2-15.5 ounce cans red beans, rinsed and drained
1 cup red onion cut into 1/4-inch dice (if you're not a fan of the "bite" from raw onion, just soak the diced onion in unsweetened soymilk for 15-20 minutes, rinse and drain)
1 cup yellow or orange bell pepper, stemmed, cored, and seeded, and cut into 1/4-inch dice
1 cup celery, cut into 1/4-inch dice
1/4 cup vegan mayo
2 teaspoons Cajun seasoning or to taste
1/2 teaspoon celery salt
1 tablespoon minced fresh basil
1 tablespoon minced fresh oregano or marjoram
Optional: pinch of garlic powder (you may want to add if your brand of cajun seasoning doesn't included granulated garlic or garlic powder)
In a medium bowl, thoroughly combine all ingredients.
To Make Quesadillas:
2 tablespoons olive oil, divided
2 tablespoons vegan butter, divided
4-8 inch whole wheat tortillas
Garnish: 4 sprigs fresh basil, marjoram, or oregano
In a large cast iron skillet, heat/melt 1 tablespoon each olive oil and vegan butter over medium-high.  Spoon 1/4 each of the filling over half of two of the tortillas.  Fold remaining halves over, and place both into the skillet.  Cook for a couple or until golden brown and toasted.  Flip and cook another couple of minutes on reverse.  Remove to serving plates and cover with foil to keep warm.  Repeat with remaining ingredients.  Garnish each with 1/4 of the Remoulade Sauce and 1/4 of the Praline Pecans.  Note:  I like to cut each quesadilla in half, overlap them slightly on the serving plates, garnish and serve.