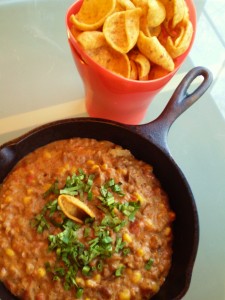 This hearty Vegan Queso Con Carne Dip is an oldie but goodie, and the essence of traditional Superbowl snacking.
Though this recipe lacks the seasonal influence of most of my other recipes, like those in The Blooming Platter Cookbook, frozen corn, soy crumbles, soy milk, and nutritional yeast makes it nutritious, and onions, green chilies, Ro-tel tomatoes, and a host of Mexican spices insures that it is fragrant and addicting.
Even though our dog Huff is co-starring in a "Crash the Superbowl" Doritos commercial. I like this "Queso" served with Frito "Scoops" to do just what the name says.  And I don't feel too badly, as Frito-Lay makes both products.