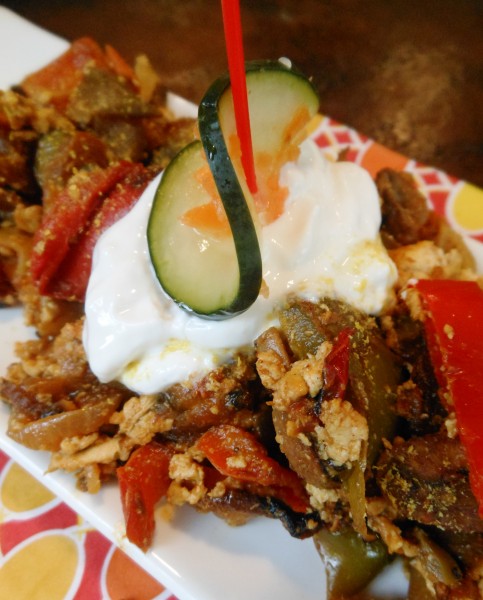 Yield: 2 servings
Joe and I go out for Mexican food at least once a week–alternating between two neighborhood restaurants– and, last night, we both ordered something different than we normally do.  He, an omnivore, ordered chilaquiles and I ordered what I didn't realize was vegan fajitas, as it was called something like "Vegetarian E," with a side of refried beans.  Had I realized, I would have known it would be way too much food, though I never mind tasty leftovers.
I topped my beans with a few of the griddled veggies–onions, red and green peppers, and mushrooms–including some of those nice deeply caramelized bits, and enjoyed them with a side of tortilla chips (too many!) and fresh, zesty pico de gallo.  I felt completely sated, yet there was a heaping mound of the vegetables still left and three tortillas rolled up in foil.  So, we packed it all up and brought it home.
Having considered lots of options for those vegetables–some I hope to try in the future–I ultimately decided on my own version of chilaquiles for lunch today.  I sliced the tortillas, pan sauteed them in a little oil, crumbled in some tofu and spices which I sauteed until the tofu began to turn the barest hint of golden brown, added the veggies with a little salsa and nutritional yeast, and sauteed the whole mixture until heated through.
I hope you find this quick Mexican melange as addicting as I did topped with a dollop of vegan sour cream and a slice of marinated cucumber.
1 tablespoon vegetable oil
3-8 inch flour tortillas, stacked, rolled, and cut into 1/2-inch clices
Sea salt
7 ounces extra-firm tofu, drained and pressed gently with paper towel (half of a 14 ounce box)
1/2 teaspoon ground cumin
1/2 teaspoon smoked paprika
2 cups sauteed and slightly caramelized fajita veggies (sliced onion, red and green bell peppers, and mushrooms)
2 tablespoons prepared salsa (I used a pineapple variety)
2 tablespoons nutritional yeast
Garnish(es): vegan sour cream, sprigs of fresh cilantro, slices of cucumber or lime, and lightly salted and roasted papitas (pumpkin seeds)
Heat oil in a large cast iron skillet over medium-high.  Add tortillas and a pinch of salt and saute, stirring constantly, until beginning to turn crisp. Crumble in tofu, sprinkle with cumin and smoked paprika, and saute, stirring, for a couple of minutes or until tofu becomes a little drier and begins to turn a light golden brown.  Scrape up any bits of tortilla or tofu that begins to stick on the bottom of the skillet and turn brown, as they add great flavor.  Add the vegetables, salsa, and nutritional yeast, and continue sauteing, stirring, and scraping, until heated through, only a couple more minutes.  Serve immediately garnished as desired.