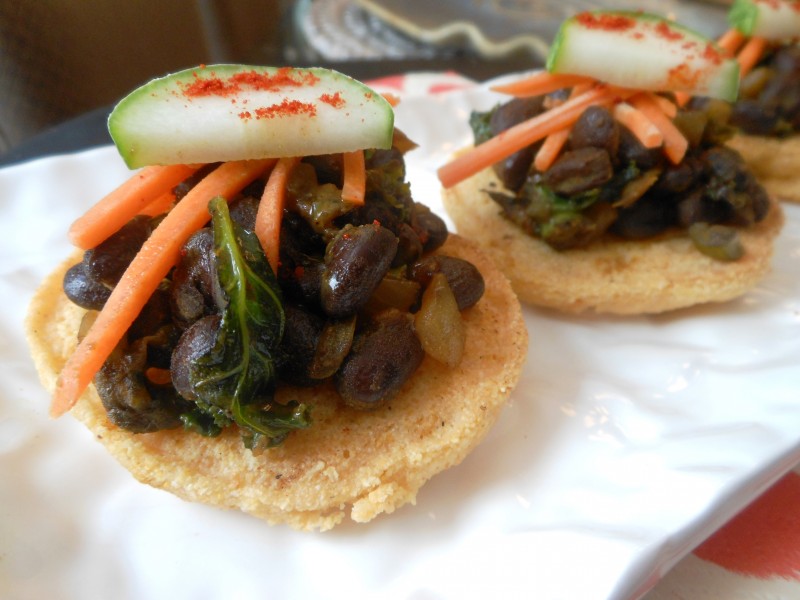 Yield: 8 Black Bean and Corn Cake Snack Stacks (plus extra black bean filling)
To celebrate the release of the FREE Snackable eBook, the good folks at Go Dairy Free and So Delicious Dairy Free have teamed up again to sponsor the ultimate Snackable Recipe Contest!
My entry is the perfect little 3-bite snack that you can pick up to enjoy.  And they are simple to prepare.
Corncakes made with luscious So Delicious Culinary Coconut Milk are the tasty foundation for these Snack Stacks.  A dab of mock Garlic Aioli–garlic powder whisked together with vegan mayo (raw garlic is a little too much of a good thing here)–anchors a mound of black beans, kale, onion, garlic, and spices cooked into a creamy mélange with So Delicious Culinary Coconut Milk.
You can your stacks however you choose.  I like carrot shreds, cucumber slices, a squeeze of fresh lime juice and a dusting of smoked paprika.  But avocado (to which I am, sadly, highly allergic) and grape tomato halves would be delicious, healthy and colorful too.
1/2 cup yellow corn meal
1/8 teaspoon sea salt
1/2 teaspoon baking powder
1/2 teaspoon ground cumin
1/2 teaspoon smoked paprika
1/4 cup plus So Delicious Culinary Coconut Milk
2 tablespoons creamed corn (a canned vegan product available at virtually all grocery stores) or 2 additional tablespoons So Delicious Culinary Coconut Milk
2 teaspoons vegetable oil divided
2 teaspoons vegan butter, divided
Creamy Black Bean, Kale, and Coconut Milk Filling (recipe follows)
Garlic Aioli (Recipe Follows)
Optional garnishes: carrot shreds; thin cucumber or avocado slices, halved; cherry tomato halves; lime wedges for squeezing; and a sprinkling of smoked paprika
In a medium bowl, whisk together cornmeal, sea salt, baking powder, cumin, smoked paprika, coconut milk, and creamed corn.  Spray a large cast iron skillet with nonstick spray, place over medium-high, and heat 1 teaspoon each of oil and vegan butter.  As the butter melts, swirl to coat bottom of skillet.  Scoop batter, 1 level tablespoon at a time, into skillet and spread to about 2 1/2 inches in diameter.  Repeat to make 4 corncakes, cooking approximately 2 minutes on each side or until golden brown.  Remove to a serving plate and repeat with remaining batter, beginning with heating the remaining oil and butter.  To serve, spread each corncake with about 1 teaspoon of Garlic Aioli, top with a heaping tablespoonful of the bean and kale filling, garnish as desired, and serve immediately.  Note: corncakes may be prepared ahead and kept well-covered until serving time.   
Creamy Black Bean, Kale, and Coconut Milk Filling:
1 tablespoon olive oil
1 small onion (half a medium), diced
Sea salt
1 cup coarsely chopped kale with thick stems removed
2 large cloves garlic, minced
1-15.5 ounce can black beans, rinsed and drained
1/2 cup + 1 tablespoon So Delicious Culinary Coconut Milk
1/2 teaspoon ground cumin
1/2 teaspoon smoked paprika
1/2 teaspoon ground turmeric
Freshly ground black pepper
In the same skillet as you made the corncakes, heat olive oil over medium-high.  Add onion and a pinch of sea salt and sauté, stirring frequently, for about 2 minutes or until softened.  Add kale and garlic and continue to sauté and stir for about 3 minutes or until kale is softened, but still bright green. Add all remaining ingredients and cook, stirring, for another 2 to 3 minutes or until ingredients reduce down and come together into a thick, fragrant, and creamy mixture. Season to taste with pepper and additional sea salt, if desired.
Garlic Aioli:
3 tablespoons vegan mayonnaise
1/8 teaspoon garlic powder
In a small cup, whisk together mayonnaise and garlic powder until well combined.