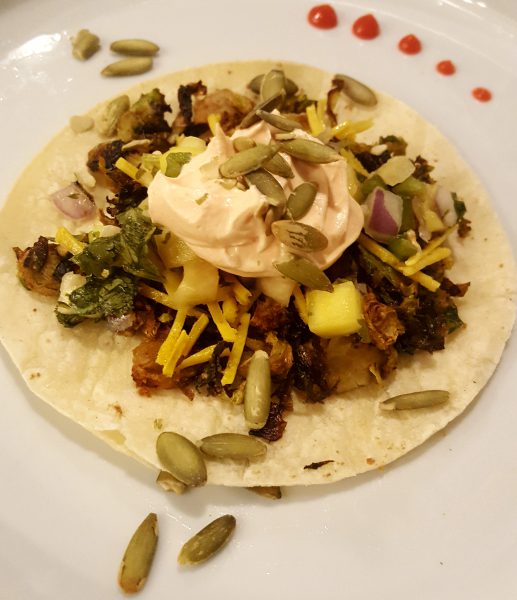 Turn Brussels sprouts haters into lovers this Valentine's Day…
This is less a vegan recipe than a tasty suggestion for enjoying shaved Brussels sprouts in an unexpected but super-easy way. Your plant-based dinner will go together in a healthy and flavorful flash.
Speaking of, I tend to stay busy and move pretty quickly in general, so to achieve the deeply charred sprouts that I favor as efficiently as possible, I crank the oven to 500 degrees and roast theshaved sprouts on a sheet pan with a lip–very lightly spritzed wirh olive oil and sprinkled with sea salt and pepper–for 15 minutes, stirring after every 5. But, adjust the temp and time to suit you.
Because I love crispy sprouts bathed in a "bee stung" Sriracha-agave sauce, I made a Sriracha sour cream and used a sweeter salsa; pineapple in my case.  But you could whisk lime juice or zest, cumin, a little chilies in Adobo or whatever sounds good to you.  And use whatever salsa you prefer.  It will be delicious.
Happy Valentine's Day!
Yield: 1 Taco (easily multiplies)
1 corn tortilla, warmed
1/4 cup roasted and lightly salted crispy roasted Brussels Sprouts, warmed
1 to 2 tablespoons grated vegan cheddar
1 to 2 tablespoons salsa
1 tablespoon vegan sour cream whisked together with 1/4 teaspoon Sriracha
Garnish: 1 teaspoon roasted and lightly salted pepitas and/or cilantro sprigs
Layer ingredients in order given on top of the warm tortilla and seve immediately. Avoid over-stuffing so the taco can be folded and picked up or serve with a knife and fork.