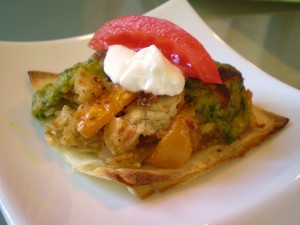 Yield: 4 servings
I love nachos.  Does anyone not love nachos?  I imagine I would love any riff on a vegan nacho that anyone could think up.  I know I am passionate about this one.
It all started with the cheese sauce.  I wanted to make a cheddary-spinach sauce using fresh finely chopped spinach.  I added a fair amount of nutritional yeast to the sauce ingredients which gave them that "pot pie" flavor.  Do you know the one I mean?
I had planned all along to load up the fresh corn tortilla quarters (not tortilla chips!) with a white bean, onion, and bell pepper mixture.  But when I tasted my cheese sauce, I knew instantly that the beans needed to be flavored differently than I'd first imagined.  And that only one herb would do: fresh sage from the garden.  The sage marries particularly beautifully with this sauce, so while I normally encourage experimentation, I would, in this case, encourage you to follow the recipe closely.  At least the first time.  After that, riff to your heart's content!
When the "not-chos" came out of the oven, I knew the flavor would be just right, but they definitely needed more color contrast.  Hence, a tiny dab of vegan sour cream and a teeny wedge of fresh local tomato.
Honestly?  They are irresistible.
4-6 inch corn tortillas, cut into quarters
Sage-Scented White Beans (recipe follows)
Cheddar -Spinach Sauce (recipe follows–you will have sauce leftover)
Approximately 4 teaspoons vegan sour cream
16 tiny wedges of fresh tomato
Position oven rack in top position and preheat oven to broil.  Place tortilla quarters on a Silpat-lined baking sheet and divide white bean topping evenly among the tortillas.  Top with a drizzle of about 1/2 teaspoon Cheddar-Spinach sauce and broil for about 3 minutes or until heated through and a little toasty on the edges.  Remove from heat, transfer to plates or a serving platter, and top each nacho with about 1/4 teaspoon vegan sour cream and a tiny wedge of fresh tomato.
Vegan Cheddar-Spinach Sauce
2 cups fresh baby spinach, finely chopped in food processor and transferred to a 2 quart saucepan
1/4 cup roasted and lightly salted cashew pieces
1/4 cup roasted and lightly salted macadamia nuts (Note: if you prefer, you can substitute another 1/4 cup of cashew pieces)
1/4 cup nutritional yeast
pinch garlic powder
pinch onion powder
1/2 cup unsweetened soymilk
1 tablespoon light miso
1 tablespoon unbleached all-purpose flour (or white whole wheat)
1/4 cup beer or nonalcoholic beer
In the bowl of the food processor in which you chopped the spinach, place nuts and nutritional yeast, pulsing until very finely chopped and almost a powder.  Add  remaining ingredients and process until quite smooth.  Pour into saucepan with spinach and stir well.  In a small cup, whisk together flour and beer, and stir into sauce.  Heat over medium to medium-high heat, stirring continually, for 3 to 5 minutes or until flour no longer tastes raw and sauce is heated through.  Adjust seasoning with salt and garlic and onion powders.  Set aside or keep warm over a double boiler.
Sage-Scented White Bean Topping
2 tablespoons olive oil, divided
1/2 medium yellow onion, cut into 1/4-inch dice
sea salt
2 medium cloves garlic, minced
1/2 medium orange bell pepper, cut into 1/4-inch dice (yellow or red bell pepper would be nice too)
2-15.5 ounce can white beans, rinsed and drained
8 fresh sage leaves, finely chopped
freshly ground black pepper
In a large cast iron skillet over medium-high, heat olive oil until shimmering.  Add onion and a pinch of salt, and saute, stirring frequently, for about 3 minutes or until softened.  Add garlic and continue sauteing for another 30 seconds.  Add bell pepper and saute, still stirring frequently, for 3 more minutes or until onions are quite soft and bell peppers are softened.  Add beans and heat through.  Turn off heat, add additional tablespoon of olive oil, and mash coarsely with a potato masher.   Stir in sage and season to taste with salt and pepper.