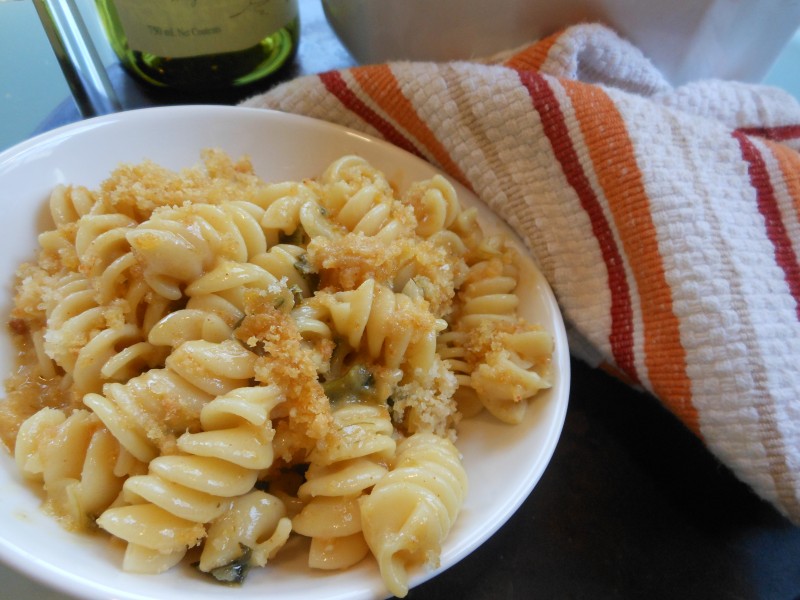 Yield: 6 to 8 servings
(If you want to skip the backstory and product review, just scroll down a little bit to the creamy-cheesy recipe!)
Recently, I received a big box of Go Veggie! vegan products to test.  If your preferred grocery store, like mine, only stocks Go Veggie! vegetarian products (made with casein and such) and you thought it wasn't the brand for you, I have good news: they make quite a range of vegan cheeses and, so far, I have found them very tasty with beautiful melt-ability.  Look for the purple packaging and click here for a store locator.
Just prior to receiving the bountiful box, I had seen two unrelated shows on the Food Network in which the hosts made mac-n-cheese, so that seemed the perfect dish in which to test several of the products all at once.  Both recipes were made with a veloute sauce instead of a bechamel.   Of this pair of French "mother" sauces, bechamel is a classic white sauce and veloute exactly the same, only made with stock instead of milk or cream.  I liked the idea of a veloute since so much "dairy" is used for mac-n-cheese anyway.  But if you are a non-dairy "Dairy Queen," then, by all means, substitute your favorite non-dairy milk for the vegetable base/bouillion and water.
So, this morning, having literally not cooked all week–we dined out for dinner a lot with a guest in town, meaning there was also plenty of leftovers for my school lunches–I eagerly woke up  and dove into what turned out to be my very simple and satisfying project.  Since the cheddar-like package of "shreds" I was sent was called "Mexican Flavor," I decided to nudge my recipe slightly west of  the Missisippi River without making it overpoweringly Mexican.
The award-winning Go Veggie! Dairy Free Cream Cheese Alternative added just the right amount of body to my veloute, which is definitely a bit thinner than a bechamel, due ot the lack of butterfat.   Their cream cheese has a pleasantly mild flavor and creamy texture, though a little liquid had separated, which may have been due to shipping and really didn't present a problem, regardless; I simply poured it off before using.
The Go Veggie! Dairy Free Mexican Flavor Shreds melted beautifully, though I could barely detect any Mexican spices in the mix of both Cheddar- and Jack-style shreds, which is probably just as well because that allows the cook to better control the spices and resulting flavor.  I chose a mere half teaspoon of ground cumin and a quarter teaspoon each of chili powder, dried oregano, and smoked paprika, along with onion, garlic and roasted poblano peppers.
For the topping, the Go Veggie! Dairy Free Grated Parmesan Style Cheese was tasty–nutty, pungent and appealingly dry–and browned just perfectly mixed with vegan butter and Panko bread crumbs.  I could have used crushed corn chips, but I was trying to merely suggest the Southwest, not hit anyone over the head with a sombrero!
Speaking of heads, I am head-over-heels for this one, and hope you are too!  My finished dish is just perfect to me: not a thick, "gloppy" cut-it-with-a-knife mac-n-cheese, but pasta noodles bathed in a rich, silky, deeply flavorful and golden sauce with plenty of cheesiness, though far less cheese than many recipes call for.
6 tablespoons vegan butter
1/2 medium yellow onion, diced
2 large cloves garlic, minced
6 tablespoons all-purpose flour (I use white whole wheat)
2 rounded teaspoons powdered vegetable base (or 2-3 bouillion cubes; not the extra large ones for 2 cups of liquid)
Pinch sea salt
2 cups water (or your favorite unsweetened non-dairy milk)
1/4 cup Go Veggie! Dairy Free Cream Cheese Alternative
1-8 ounce package Go Veggie! Dairy Free Mexican Flavor Shreds
1/2 teaspoon ground cinnamon
1/4 teaspoon chili powder (mile or hot, your choice)
1/4 teaspoon oregano
1/4 teaspoon smoked paprika
1/8 teaspoon freshly gound black pepper
2 poblano peppers, stemmed, seeded, halved, roasted under the broiler until skin blackens (about 5 minutes), skin removed, and finely diced
8 ounces rotini pasta, cooked according to package directions, drained, rinsed, and drained again
Crunchy Topping (recipe follows)
Preheat oven to 350 degrees.  Spray a casserole dish with nonstick cooking spray.   In a medium saucepan, melt butter over medium-high heat.  Add onion, and cook, stirring occasionally, until onoins are translucent, about 3 minutes.  Add garlic, and cook and stir for another minute.  Whisk in flour to make a roux, cooking and whisking for a couple of minutes to remove raw flour taste.  Slowly whisk in vegtable base and water.  (Note: you may substitute vegetable stock for vegetable base and water.)  And cook for about 7 or so minutes or until sauce is quite thick.  Add cream cheese alternative and whisk until melted, followed by shreds and all spices.  Check for seasoning, and adjust if necessary.  Stir in poblano peppers and then fold sauce into pasta and spoon lightly into prepared dish.  Sprinkle topping evenly over the surface, covering completely, and bake, uncovered, for 30 minutes. Let cool for about 15 minutes before serving to allow the sauce to reabsorb back into the pasta.
Crunchy Topping:
1 tablespoon vegan butter
1 cup Panko bread crumbs
1/4 cup Go Veggie! Dairy Free Parmesan Style Grated Cheese
In a small saucepan, melt butter overmedium high.  Remove from heat and stir in crumbs and cheese until all ingredients are well combined.