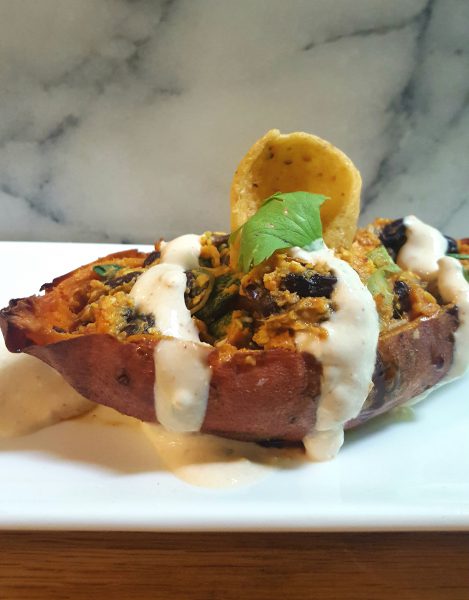 Yield: 8 potato skins
Powerful cravings seem to be inspiring a lot of my recipes lately.  This one was based on a dish spotted on the online menu of The Hound's Tale in Williamsburg, VA: sweet potato and black bean tacos.
However, not feeling like I wanted the additional calories of taco shelsl, it occured to me that the potato "shells" would be the perfect containers–like cute little boats–and these delicious, spicy, but not-too-firey, potato skin boats were born.  An optional Frito scoop garnish nods in the tortilla direction.
Easy and quick, other than baking the potatoes, you can bulk them up many ways by adding additional ingredients like sauteed onion, garlic, and bell peppers for more of a fajita style.  But I like them just like they are.
Hungry though you may be, I would advise against microwaving the potatoes or skipping the extra 10-minute skin crisping step.  I promise the texture will be worth it.
4 medium-small sweet potatoes, scrubbed and lightly pricked all over with a fork
1/2 cup shredded vegan cheddar or cheddar-jack cheese blend (I use the So Delicious brand cheddar-jack variety) + optional 1/2 cup additional cheese
1/2 teaspoon ground cumin
1/4 teaspoon garlic powder
1/4 teaspoon smoked paprika
4 cups moderately firmly packed baby kale, lightly steamed (I microwave it for 1 minute in a medium bowl)
1-15.5 ounce can black beans, rinsed and drained
6 green onions, thinly sliced (optional: reserve 2 of the sliced onions for garnish)
Sea salt and freshly ground black pepper to taste
Chipotle-Lime Sour Cream Sauce (recipe follows)
Garnishes: cilantro sprigs and optional Frito's scoops and reserved green onions; roasted pumpkin seeds would also be lovely
Preheat oven to 400 degrees.  Place potatoes on an oiled or Silpat-lined baking sheet and spray them lightly with non-stick cooking spray.  Bake 1 hour.  Reduce heat to 350 degrees.  Let potatoes cool enough to handle and then slice in half lengthwise.  Using a spoon, scoop out flesh leaving a 1/8-inch shell. Spray inside of shells lightly with non-stick spray and return to oven for 10 minutes.  In a large bowl, mash potato flesh with 1/2 cup cheese, cumin, garlic powder, and smoked paprika.  Fold in lightly steamed kale, black beans, and green onions.  Season to tasted with sea salt and freshly ground black pepper. Divide mixture evenly among potato skins, top with optional 1 tablespoon shredded cheese, and bake for 15 minutes.  Serve immediately drizzled with Chipotle-Lime Sour Cream sauce and garnished, as desired, with sprigs of cilantro, Frito's scoops, reserved green onions, and/or roasted pumpkin seeds.
Chipotle-Lime Sour Cream Sauce
1/2 cup vegan sour creeam
1 teaspoon adobo sauce from a can of chipotle chilies in adobo sauce
Zest of 1/2 medium lime
1/4 teaspoon ground cumin
1/8 teaspoon garlic powder
1/8 teaspoon sea salt
In a small bowl, whisk together all ingredients until completely combined.