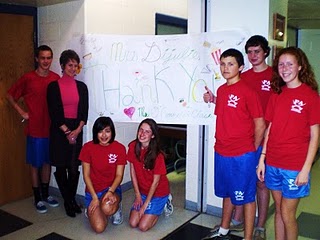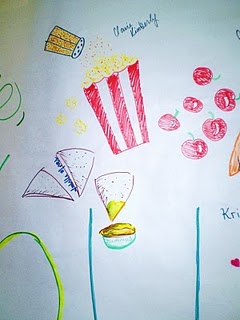 I feel like Michelle Pfeiffer in "Dangerous Minds" when her colleague asked her why she had decided to stay at their inner city school and her reply about her students was, "They gave me candy and called me 'The Light.'" Mind you, I certainly don't look like Pfeiffer and I hardly teach at an inner city school but, "They made me a banner and decorated it with hummus and nutritional yeast."
I was overwhelmed!
Last Tuesday, Denise O'Connell, an award winning coach and P.E. teacher at our school, invited me to speak to one of her health classes on veganism. (Our CRS videotaped my presentation so she could show it to her other classes.) I made vegan chocolate chip cookies and a power point for the kids about what I call the "Big 3" reasons to adopt a vegan diet: personal health, environmental health, and animal welfare. They were a wonderful audience, asking some great questions, and I felt privileged to spend a good hour with them.
Yesterday, as I was returning to my classroom during a planning bell, I caught representatives from the class in the act of hanging this fun banner outside the art department. I said, "Oh, you guys, I'm sorry; I'll pretend I didn't see it." And one of them sweetly said, "But you're supposed to see it!" So I asked if they would mind posing for a photo and, though embarrassed to be in their P.E. uniforms, they generously agreed. They shouldn't have felt self-conscious as they would be adorable in paper bags.
During my presentation, I had passed around the small shaker of nutritional yeast that I keep in my backpack (especially for movie popcorn) so that they could get a good whiff of its nutty, cheesy aroma. Many of them thought it smelled as yummy as we vegans do. I was so touched that among the wonderful drawings of fruits, veggies and even hummus with pita chips on the banner, was movie popcorn and a shaker of nutritional yeast.
They made my day! I feel so fortunate to teach where I do, with whom I do, for whom I do.